Improvement seen in air and water, but many cities still failed to meet standards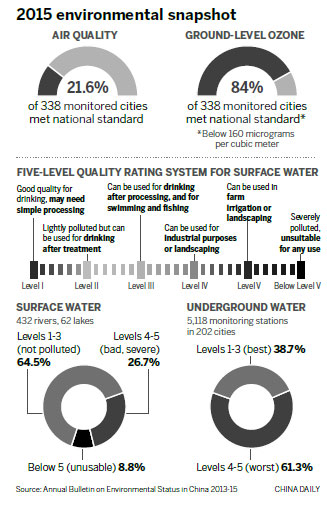 China made noticeable environmental improvements last year, with reductions in many airborne pollutants and in cleaning up severely polluted water, according to the annual bulletin about the national environmental situation released on Thursday.
Still, the report found that 265 of the 338 monitored cities failed to meet national air quality standards, with pollution control initiatives complicated by thorny issues related to ozone at ground level, experts said.
The Ministry of Environmental Protection usually releases the annual bulletin before World Environmental Day, which falls on June 5. It presents an overview of the nation's environmental status - from air, water and ocean quality to farmland and forest coverage, noise and even background radiation.
It showed a general improvement in air quality last year - 74 major cities cut their levels of PM2.5 by 14.1 percent, PM 10 by 11.4 percent and sulfur dioxide by 21.9 percent year-on-year.
PM2.5 and PM10 refer to the diameter, expressed in microns, of fine particulate matter harmful to human health. PM2.5 particles can get into the tiny blood vessels of the lungs.
Of the 338 monitored cities, only 21.6 percent met national air quality standards last year, the bulletin said. In 2014, only 9.9 percent of the 161 cities with regular monitoring reached the standards.
Xia Guang, director of the ministry's Policy Research Center for Environment and Economy, credited national campaigns for the improvements, saying in a Thursday report on China Central Television that "the action plan against air pollution works".
Ground-level ozone pollution has popped into public view, the report said, especially in the Bejing-Tianjin-Hebei region, where seven of 11 cities saw average ozone concentrations higher than national standards last year.
In Beijing, for example, ozone has replaced PM2.5 as the largest pollutant on a growing number of days since 2013. Many days in May have seen excessive ozone as temperatures warm, said Chen Chen, a researcher at the city's monitoring center.
The ozone at ground level directly harms health. It is mainly generated through complex photochemical reactions in the atmosphere, which are harder to manage than other sources of pollution. Control of ozone requires comprehensive measures in curbing a variety of substances, Chen said.
In 2015, the average ozone concentration in 74 major cities increased by 3.4 percent year-on-year, an increase of 7.9 percent over 2013, said Luo Yi, head of the environmental ministry's monitoring department, in February. Luo called for more focus on reducing ozone.
In a step to reduce water pollution, China will expand the number of monitoring stations to 2,767 by the end of the 13th Five-Year Plan (2016-20) period, the ministry said in March.