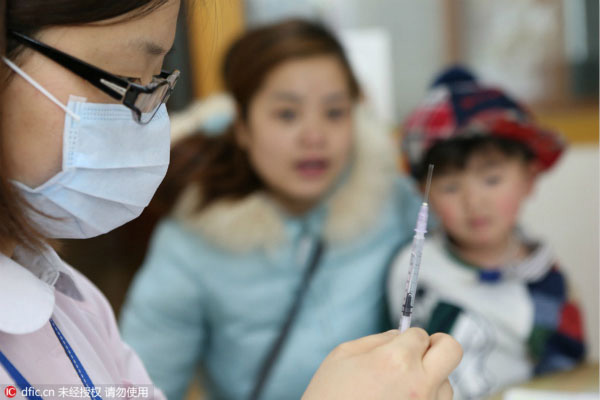 A Chinese medical worker prepares to vaccinate a young kid at a hospital in Shanghai, China, March 20, 2016. [Photo/IC]
Prosecuting authorities in China approved the arrest of 125 people suspected of involvement in a vaccine scandal worth 570 million yuan ($88 million) on Thursday.
Another 37 suspects have been put under investigation for suspected duty-related crimes, the Supreme People's Procuratorate said on Friday.
The vaccines involved in the case were sold by a mother and daughter in Shandong province to more than 20 provinces, autonomous regions and municipalities since 2011. The duo did not store the vaccines under proper temperature thus making them less effective.
Following media exposure of the incident in February, the government set up a special team in March comprising different ministries and the Supreme People's Procuratorate to investigate the case.
The investigation has so far seen 190 criminal cases involving 341 suspects filed by police nationwide, 15 people indicted, and two convicted of illegal sale of vaccines, the Supreme People's Procuratorate (SPP) said in a statement on Thursday.
The 125 suspects include 25 from Fujian province, 19 from Henan province, 15 from Heilongjiang province and 13 from Guangxi Zhuang Autonomous Region.
The 37 officials implicated in 22 cases, who are suspected of taking bribes, abuse of power or negligence, are from Fujian, Inner Mongolia, Jiangsu, Anhui, Shandong and Hubei, said the SPP, adding that 10 of them are to be arrested.