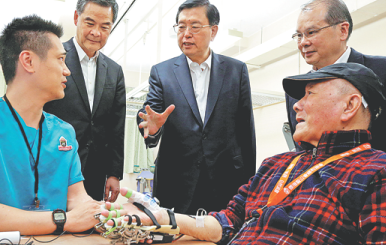 Top legislator Zhang Dejiang (center) chats with a helper at a care center for the aged in Hong Kong on Thursday.[Photo/Agencies]
Top legislator Zhang Dejiang called on Thursday for Hong Kong to focus on economic development.
His appeal came in a speech to more than 200 key guests from various sectors of society on the last day of a three-day visit to the city.
Hong Kong is well known because of its economic status, which decides its position in the world, said Zhang, who heads the National People's Congress Standing Committee.
"In other words, the reason why Hong Kong is so famous around the world for its economic achievement is because it has strong backing from the mainland-a market with a 1.37 billion population. ...
"That has made Hong Kong a window for the mainland's opening-up, a main source for the mainland to attract foreign investment, and a connector to reach out to the world, as well as a platform on which its finance and service industries thrive," Zhang said.
The first State leader to visit the city since 2012, Zhang delivered his speech to local political heavyweights and business leaders at the Hong Kong government headquarters before visiting a nursing home and a public housing estate still under construction.
"Hong Kong's superiority is weakening and its new growth point has not formed yet, so it should pull together to concentrate on developing its economy," Zhang said.
He also called on society to support Hong Kong Chief Executive Leung Chun-ying and his administration, saying the chief executive is crucial to maintaining the city's stability, rule of law, economic development and improving people's livelihoods.
Zhang Xiaoming, director of the Liaison Office of the Central People's Government in Hong Kong, said the top legislator's visit shows that Beijing is determined to firmly uphold the "One Country, Two Systems" principle, and it has also boosted Hong Kong people's confidence.
Jasper Tsang Yok-sing, head of the city's legislature, said in a local newspaper article on Thursday that Zhang's visit had reaffirmed the central government's confidence in Hong Kong's future and "One Country, Two Systems".
Tsang said he believes that this confidence stems from the fact that the central government is familiar with the "reality" in Hong Kong, the issues that it faces, and ways to solve them.