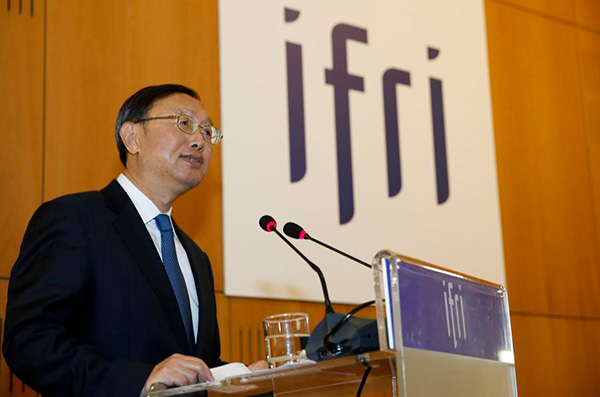 State Councilor Yang Jiechi delivers speech at the French Institute of International Relations in Paris, on April 14, 2016. [Photo/Xinhua] 
Ladies and Gentlemen,
Dear Friends,
As China continues to grow and gets more integrated into the world, the international community is following with great interest not only how its economy is doing but also where its diplomacy is heading. This is especially true for the past few years. China has been more proactive on the diplomatic front to develop friendly ties with other countries. It has also become more active in providing better and more public goods to the world. Such efforts have been well received by many in the world. Nevertheless, there is still speculation about the so-called China's strategic intention. As a matter of fact, China's strategic intention cannot be more clear-cut. What we seek are the fulfillment of the two centenary goals (i.e. to complete the building of a moderately prosperous society in all respects and double China's 2010 GDP and per capita income by the time the CPC celebrates its centenary in 2021; and to build China into a modern socialist country that is prosperous, strong, democratic, culturally advanced and harmonious by the time the People's Republic of China celebrates its centenary in 2049) and the realization of the Chinese dream of great national rejuvenation. At the same time, we will promote peace and development of the world and work with other countries for a community of shared future for all mankind. China's development will only mean a greater force for peace and more positive energy for the world.
We are committed to a path of peaceful development. We are determined to blaze a new path of peaceful development of a major country in line with our national interests as well as the call of the times for peace, development, cooperation and mutual benefits. We strive to develop ourselves by upholding world peace and better safeguard world peace by building up our own strength. Such a path is inspired by China's history and culture and the fine diplomatic tradition of New China. It is consistent with China's national conditions as well as the trend of the world. We know full well that in an increasingly globalized world of deepening interdependence among countries, only through peaceful development can China realize its ambitious goal of national rejuvenation and contribute more to the world. As we pursue peaceful development ourselves, we call on other countries to do likewise. Our commitment to peaceful development does not mean that we can allow our legitimate rights and interests or core national interests to be sacrificed.
We are committed to win-win cooperation. China advocates a new type of international relationship centered on win-win cooperation in which countries seek to advance common development through joint efforts. True development should be development for all, and sound development should be sustainable. The international community should find a path of fair, open, comprehensive and innovative development and work for common development. To that end, China has proposed a Silk Road Economic Belt and a 21st Century Maritime Silk Road. Under this initiative, we intend to promote international industrial capacity cooperation, deepen all-around, win-win cooperation with other countries in economy, trade, investment, industry and infrastructure, help the countries involved build capacity for self-development, and create more development opportunities for more countries. We have signed intergovernmental agreements for cooperation on the Belt and Road with over 30 countries, including some European countries. China and France were the first to cooperate in third-country markets, setting up a new model of North-South cooperation. Chinese and French companies are exploring and conducting three-way cooperation in various forms in such African countries as Nigeria, Uganda, Mozambique and Guinea. The Hinkley Point in the UK, a joint project that will involve Chinese and French companies, is another testament to the broad prospect and market space for tripartite cooperation.
We are committed to building various partnerships with all countries. In today's world, countries have intertwined interests and would rise and fall together. As such, we need to build partnerships with rich substance and in diverse forms at regional and international levels. These partnerships should be equal in nature, meaning that countries will enjoy equal rights and share same obligations with no one playing a more dominant or superior role. They should be peaceful and not targeted against any hypothetical enemy or third party. And they should be inclusive, including not just those who share the same ideal and follow the same path but also those who seek common ground while shelving differences. China has established different forms of partnerships with over 80 countries, regions or regional organizations in an effort to blaze a new trail for state-to-state relations featuring dialogue and partnership rather than confrontation or alliance.
We are committed to resolving differences through peaceful means. Be it the Middle East and other international hot spots, or issues concerning China's territory and maritime rights and interests, China has stayed committed to solving disputes through dialogue and negotiation. Together with European countries and other parties, we have made possible the conclusion of the comprehensive agreement on the Iranian nuclear issue. We have also been actively engaged in the pursuit of a political settlement of the Syrian issue. Dialogue and negotiation have proved the best way toward the most lasting solution at the lowest cost and minimal "after effects".
Ladies and Gentlemen,
Dear Friends,
Whatever change may take place in the international landscape, Europe remains an important force on the international arena. We can see that despite the difficulties, challenges and distractions it faces, Europe is making efforts to stay focused and press ahead with its integration process. Its economy has sustained the momentum of recovery. China has full confidence in the future of Europe. China-Europe relationship is always one of our diplomatic priorities. We firmly support European integration and support a united, stable and prosperous EU in playing a still bigger role in international affairs.
This year marks the beginning of the fifth decade of China-Europe relations. Looking back at the past four decades, we see a sea change in both Europe and China, two major forces in the world. The European Coal and Steel Community has now evolved into a union, covering 500 million people of 28 countries, while China, once a weak and poor country, has experienced exciting development since it launched its reform and opening-up program. Over the past 40-odd years, China-Europe relations have come a long way. Equality, mutual benefit and win-win cooperation hold the key to the stable and healthy growth of China-Europe relations. Forty years ago, political relations between us were virtually nonexistent and engagement was difficult in the early days due to ideological differences. Forty years on, China and Europe have become comprehensive strategic partners who enjoy frequent high-level visits and conduct wide-ranging conversations in more than 70 dialogue and consultation mechanisms spanning different areas and at different levels. Forty years ago, two-way trade between China and Europe was less than three billion US dollars. Forty years on, the figure grew 200-fold to nearly 600 billion US dollars, which means the annual trade volume in the past is now easily done in just two days. The EU has remained China's top trading partner for 12 years on end, while China has remained the EU's second largest trading partner for 13 years in a row. Forty years ago, few visits were exchanged between our people. China in the eyes of most Europeans was merely a remote Oriental legend. Forty years on, two-way personnel exchanges between China and the 28 EU member states top 6.41 million. Steady progress is being made in facilitating the travel of our people, further cementing popular support for China-Europe relations.
Today, China-EU relations are blessed with a historic opportunity for more rapid growth. In 2014, during his visit to the EU headquarters, President Xi Jinping called on China and Europe to forge partnerships for peace, growth, reform and civilization. His vision gives a new strategic direction to the development of China-EU relations. At the end of last month, President Xi paid a successful visit to the Czech Republic. That was the first time for President Xi to visit a central and eastern European country in his capacity as Chinese president. His visit injected fresh impetus to China's cooperation with Central and Eastern European countries (CEEC), and sent a clear message of China's commitment to Europe and its readiness to promote better and faster development of its relations with Europe. Here, I would like to make the following observations on how to advance China-Europe relations going forward:
First, we need to cement the basis for political mutual trust. China and Europe are different in development stage, ideology and social system. For our relations to grow steadily and our cooperation to be sustainable, we must trust and respect each other. The two sides should view and promote cooperation with a long-term and strategic perspective in order to expand common interests. We must not allow individual incidents at particular times to affect our overall cooperation. At the invitation of President Xi Jinping, President Hollande and other European leaders will join leaders from other countries at the G20 Hangzhou Summit. This year, we will have some important events such as the 18th China-EU Summit and the 16+1 (CEEC-China) Summit in Riga, during which Premier Li Keqiang will have in-depth discussions with leaders of the EU and European countries on enhancing cooperation. We must use these high-level exchanges and dialogue mechanisms at various levels to increase communication and coordination on issues of respective interest and deepen our political mutual trust.
Second, we must continue to enhance practical cooperation. Combined, China and Europe account for one third of the world economy. Sound economic development in China and Europe is crucial for a steady recovery of the world economy. The increasingly grave and complex global economic situation requires greater commitment to openness and cooperation and more firm opposition to trade protectionism of all forms. We should speed up negotiations on the China-EU investment agreement and launch at an early date joint feasibility study on a China-Europe FTA to tap into the potential of bilateral trade and investment cooperation. We need to explore synergy between China's "Belt and Road" Initiative, its international production capacity cooperation programs and Europe's development strategies. We should step up efforts to set up a joint investment fund and bring into early operation such cooperation projects as high-speed railway and nuclear energy. We should deepen financial cooperation and increase communication on financial and monetary policies, scale up the size of settlement in local currencies and deepen cooperation within the framework of the Asian Infrastructure Investment Bank (AIIB) and the European Bank for Reconstruction and Development (EBRD). We should enhance China's multitiered cooperation with EU institutions, EU member states and subregions in Europe to enable China-EU relations to grow on a solid basis and in a balanced way.
Third, we should strengthen cooperation on global governance. As Europe is facing a serious terrorist threat, China is ready for more counterterrorism communication with Europe and closer cooperation on intelligence sharing. Last year, thanks to the joint efforts of China and Europe, especially France, the Paris Agreement was reached, ushering in a new process of a global response to climate change. China will work with Europe to push for progress in implementing the Paris Agreement and for that matter, progress in global climate change cooperation. As important participants in global governance, China and Europe should deepen cooperation in upholding world peace, improving economic governance, sustainable development, cyber security and anti-corruption. On a particular note, we should strengthen coordination and cooperation on this year's G20 Summit in Hangzhou to ensure its success and play a positive role in promoting global growth.
Fourth, we must deepen multidimensional people-to-people exchanges. Both China and Europe are important forces for the development of human civilization. China is ready to work with Europe under the framework of the high-level people-to-people dialogue to make an overall plan for cooperation in science and technology, education, culture, health, tourism and sports and exchanges between youth and women. We should strive for solid progress on key projects and develop a number of flagship programs. This year, we shall focus our efforts on the high-level people-to-people dialogues between China and Europe, between China and France and between China and the UK, the China-Germany Year of Youth Exchange and the Year of China-CEEC People-to-People Exchange.
Ladies and Gentlemen,
Dear Friends,
France has a unique influence in the world. It is a champion for the development of the EU. It is also the first major western country to officially establish diplomatic ties with New China. Over the years, our two countries, under the principle of independence and mutual respect, have achieved a high level of political mutual trust and carried out quality and fruitful win-win cooperation, setting a paradigm for the broader China-Europe relations. The strategic importance, great relevance and global influence of our bilateral ties have expanded and enriched China-Europe relations.
In 2014, President Xi Jinping paid a successful visit to France, ushering in a new era of close and enduring comprehensive strategic partnership between China and France. Our Presidents and Premiers have had several mutual visits, and our cooperation in civil nuclear energy, aviation, finance and people-to-people exchange has continued to break new ground. France is now China's important investment destination in Europe, and a popular destination for Chinese tourists, as evidenced by the record numbers of Chinese visitors in France. We have also maintained good and productive consultation on major international affairs, like global governance, climate change, counterterrorism, and the Iranian nuclear issue.
Ladies and Gentlemen,
Dear Friends,
In the building of the four partnerships between China and the EU, China-France relationship will have an important and special place. China will work with France and other European countries to deepen mutual understanding, increase cooperation and improve the all-dimensional, multitiered and wide-ranging patterns of dialogue and cooperation. This way, we will be able to inject a lasting driving force to our comprehensive strategic partnership and contribute more positive energy to world peace and prosperity!
Thank you.