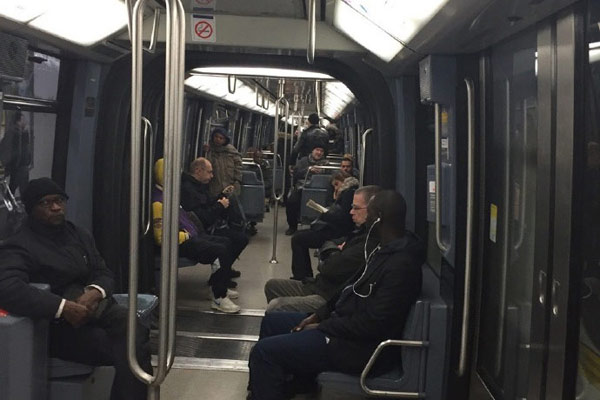 Passengers on the metro where Fangfang was attacked. [Photo/weibo]
News of a female student being abused and assaulted at Paris metro five days ago has stirred concerns among Chinese Internet users.
Fangfang (alias), a student at a public university in France, ran into two women when she and her friend got off a subway train at night on April 7. The two women humiliated Fangfang and her friend with words and gestures. Fangfang thought they were drunk.
The next morning, they met the two women again in a subway train bound for Gard Du Nord. There were another two White women and a Black guy along with them. Fangfang and her friends pretended not to understand what the women were shouting and screaming at them in French.
Then the White girl threw a solid object at Fangfang's forehead, which made the student angry and asked the girl why she did that. Instead of replying, the White girl punched Fangfang's face several times and even kicked her.
Luckily, a middle-aged French woman intervened and drew away the girl and persuaded her and her friends not to do such things.
Apart from the woman, who even agreed to take Fangfang to police station to file a complaint, the other passengers reportedly did not help them when the White girl was assaulting her, and did not even tell her the local police phone number when she asked them.
Fangfang tried to take photos of the three women with her mobile phone when they got off the train, but her phone was snatched by the Black man. Luckily, a middle-aged man heard Fangfang's screams and brought her phone back.
Fangfang shared her metro experience on her Sina Weibo account to warn others about such incidents.
Fangfang's post describing her experience got 11,400 reposts, 5,755 comments by Wednesday, while a hashtag #Chinese student is attacked at Paris metro had 16.23 million reads and 10,000 Internet users discussed the topic by 8:30 am on Wednesday.
Many Internet users shared their experiences in foreign countries and gave their suggestions, such as a Weibo user named tvmf said: "Maybe you should post your experience on French social network sites", which got 4,649 supports.
Another user named Shenj said: "I feel sad after reading the post. It's really difficult for Chinese studying and living in foreign countries. I used to meet a hooligan and had to pretend I didn't understand what he said and tried my best to run away from him. I really understand the girl's helplessness." The message got 2,248 supports.