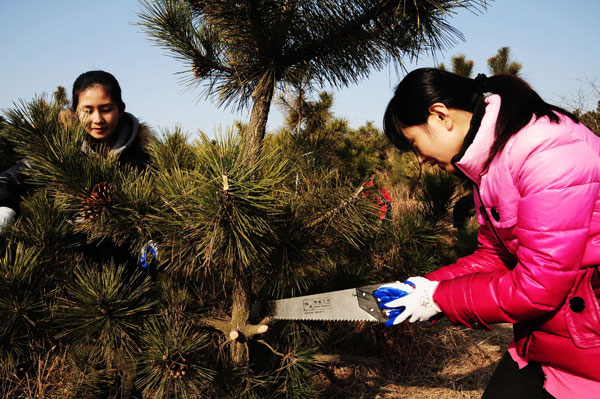 [Residents trim trees in the economic development zone in Qingdao, Shandong province, in March. Photo by Yu Fangping / China Daily]
National research on the role of forests in controlling PM2.5 and other air pollutants is expected to conclude next year.
The research, which was launched in 2013, is being carried out by Beijing Forestry University and the Chinese Academy of Forestry, among other institutions.
It includes studies of the most effective types of trees for cleaning the air, according to Wang Cheng, director of the State Forestry Administration's Urban Forest Research Center, who was speaking during the First Asia-Pacific Urban Forestry Meeting, which opened in Zhuhai on Wednesday.
The key to controlling smog is reducing pollutants, Wang said, and forests play an important role in absorbing these, as shown in research from some European countries.
He proposed mulching, the practice of applying a layer of material to an area of soil, as a major solution for stopping pollutants absorbed by trees from being released back into the air.
Mulching has been practiced in many European and American countries for centuries but is far less common in the Asia-Pacific region, outside of Australia, New Zealand, South Korea and Singapore.
Peng Youdong, deputy director of the State Forestry Administration, said the national forest city program that was introduced in 2004 has helped encourage significant increases in forestry cover.
More than 170 cities have applied for the title since its launch, with 96 winning the right to call themselves a national forest city.
Ye Zhi, vice-president of the Chinese Academy of Forestry, said the government had set the goal of increasing the proportion of forest cover in urban areas to 39.5 percent, or 15 square meters per capita, by 2020.
Simone Borelli, a forestry officer with the United Nations' Food and Agriculture Organization, said China had done "an excellent job in the past few years in the development of urban forestry".
"China can really lead the way in sharing expertise and knowledge with other countries. People really need to have trees in their cities to have a happier and healthier environment," he said.
Apart from absorbing pollutants, urban forests create "a shift of perception of the way people live in the city," Borelli said.
"If you have a green city, people walk more, ride bicycles more, and so reduce the production of pollutants," he added.
Asia is currently home to 53 percent of the world's urban population and is projected to be one of the largest urban growth regions in the next two decades.
Rapid urbanization can lead to increased heat island effects, air pollution, soil degradation, water shortages, food insecurity, poverty and public health issues.
Interest is now growing in urban and peri-urban forestry, which helps address these issues by providing a wide range of goods and ecosystems services.
Wang, from the State Forestry Administration, said most people in the Asia-Pacific region recognize some of the benefits brought by urban forestry.
However, few focus on the fact that it helps reduce soil erosion, regulates rainwater runoff and maintains biological diversity, he said.
The biggest challenges proponents of urban forestry face in the region are conflicts over land use, a lack of proper management, limited knowledge and technical skills and a lack of public participation, funding and experts, Wang said, citing a survey among 17 people from governments, universities, research institutions and nongovernment organizations in the region.
Manoj Dabas, director of the Center for Urban Green Spaces of India, said Delhi's challenge was spreading urban forestry coverage to highly populated but poorly developed areas.