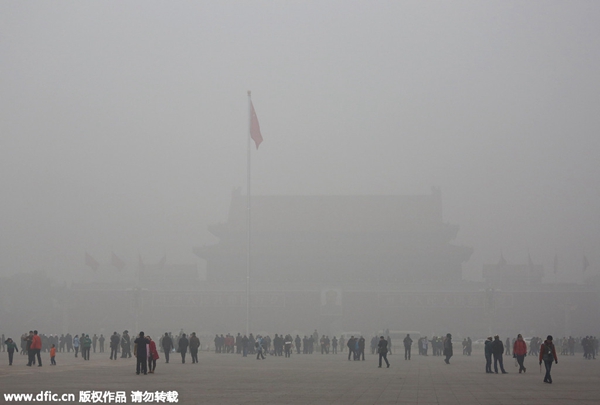 Visitors walk at the Tian'anmen Square amid severe smog in Beijing on Dec 15, 2015. [Photo/IC]
BEIJING - The Ministry of Environmental Protection (MEP) has unveiled targeted and stricter measures to address severe air pollution in the Beijing-Tianjin-Hebei region during the winter heating season.
Unified standards for issuing air pollution alerts in Beijing and five neighboring cities, including Tianjin Municipality as well as Baoding, Langfang, Tangshan and Cangzhou in north China's Hebei Province, will be rolled out before March 15, MEP Minister Chen Jining announced at a press conference held on Thursday.
Air pollution alerts will be issued according to the forecasted maximum level of PM2.5, a type of particulate matter that causes hazardous smog, Chen said.
Chen also added that the MEP is considering pollutant emission fees based on different seasons to encourage polluting enterprises to increase production in summer while decreasing during the winter.
Recent MEP data showed that although air quality improved continuously nationwide in 2015, the Beijing-Tianjin-Hebei region still suffers heavy PM2.5 pollution.
The average density of PM 2.5 in Beijing in the first ten months of 2015 was cut by 21.3 percent compared with the same period in 2014. However, last year's heating season, which began in mid-November, saw a year-on-year surge of 75.9 percent in PM2.5 density, resulting in a year-on-year decrease of just 6.2 percent in Beijing's annual average PM2.5 density.
The MEP said the Beijing-Tianjin-Hebei region experienced heavier pollution this winter due to pollutant emissions during the coal-burning heating season as well as a strong El Nino effect, which brought static weather patterns that made it difficult for airborne pollutants to disperse.
Continued efforts including information sharing, tougher supervision over polluting firms, crackdowns on polluting vehicles and replacing coal with electricity or gas in heating will be carried out to cope with winter smog, said Chen.