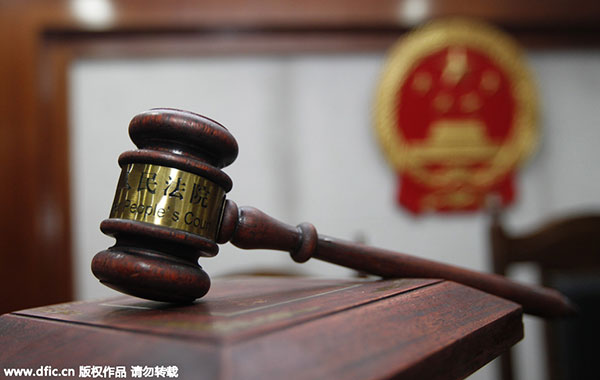 A gavel in a court. [Photo/IC]
2015 change resulted in heavier loads for judges; mediation seen as one solution
Suing government agencies will become easier, as further streamlining of the system is being explored to polish procedural rough edges and to find innovative solutions for settling disputes, according to court officials.
A guideline handed down by central authorities last May made things easier by requiring courts to cut unnecessary barriers and accept a dispute at the time a suit is registered, rather than after a preliminary review of its merits. But the rule contributed to a sharp increase in the filing of disputes-especially in cases involving complaints against government departments-according to Li Shaoping, vice-president of the Supreme People's Court.
In 2015, courts nationwide heard 241,000 administrative cases, up almost 60 percent year-on-year, according to a work report of the top court during the annual session of China's legislature in March.
"The things residents appealed about most often in the past-house demolition and administrative information disclosure-have been made easier," Li said.
But the boom in administrative disputes has also brought other difficulties. For example, the huge increase in cases can impose unworkable strains on the limited number of judges available to hear cases in some courts.
"This makes us to think about new ways to further smooth the difficulty of case filing," Li said.
Beijing No 4 Intermediate People's Court, is a pilot site for reform and a test bed for exploring ideas that promote efficiency and professionalism. When a government body is named as defendant in a lawsuit in one of the capital's 16 districts, the No 4 Court takes the case.
A report issued by the court on March 31 said that district governments in the capital were named as defendants in 1,397 administrative cases accepted in 2015-seven times the number the city's courts tackled in 2014.
The cases covered many sections of the governments' work, including the disclosure of administrative information and compensation for house removals, according to Wu Zaicun, the court's president. Of those cases, 611 named the government in Haidian district as defendant, followed by Chaoyang district.
"They are in the middle of reforms in urban management, so it's easier to produce disputes," Wu said, adding that more than 25 percent of the cases were decided against the government.
"Some governments lost the lawsuits because of illegal procedures in handling administrative affairs, while some failed because their actions were not on line with the law," he said. "The hearings are a good place to examine the governments' behavior."
Methods for handling administrative disputes will be further explored this year, he said. One solution may be more mediation to arrive at settlements between parties outside of court, he said.