The Air Force's next-generation bomber for China must have strong penetration and precision strike capabilities as well as stealth technology, according to experts watching the People's Liberation Army.
In an article published recently on the Air Force website, Zhang Lijun, a researcher at the PLA Logistics Command College, and Li Wei, a professor at National Defense University, said those capabilities are essential for a next-generation bomber. But considering China's overall technological ability, designers should set reasonable and achievable goals for the aircraft, they said.
It was not the first time experts have spoken about a new strategic bomber. According to an earlier report carried in Kanwa Defense Review, a Canada-based publication focusing on defense technology, PLA strategy researchers urged the Air Force to prioritize the development of a long-range strategic bomber at an internal meeting in mid-2015.
Attendees at the meeting reached a consensus that such a bomber would be of great significance to the PLA because it would enable China to deny foreign military intervention in case of an emergency or conflict, the Kanwa report said.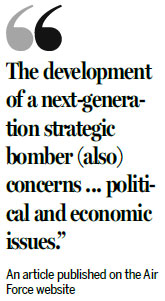 New strategic bombers being developed by the United States and Russia feature a host of highly advanced technologies in radar, navigation, communications, reconnaissance and electronic warfare, and will have strong combat and response capabilities on short notice and will be able to fly higher than existing bombers, according to the authors of the Air Force website article.
Those new bombers will also be capable of evading radar detection and of delivering both conventional and nuclear weapons.
"A strategic bomber is not only a long-range strike weapon but also an important pillar for a country's nuclear force," they wrote. "In China, the development of a next-generation strategic bomber concerns not only military affairs but also political and economic issues."
They urged the Air Force's armament planners to decide on the new bomber's specifications based on the PLA's actual needs rather than merely following the path of others.
Although some foreign military analysts list China among the world's top three air powers that still maintain strategic bombers (the US and Russia do, as well), the PLA's bomber fleet is actually much weaker compared with its counterparts.
The Chinese bomber force includes an unknown number of H-6 bombers, which are based on the Soviet-era Tu-16 Badger designed in the 1950s and retired by Russia in the early 1990s.
The US now has the Boeing B-52, the Rockwell B-1 and the super-powerful Northrop Grumman B-2, while Russia's Long Range Aviation Command has the Tupolev Tu-160, Tu-95 and T-22M.