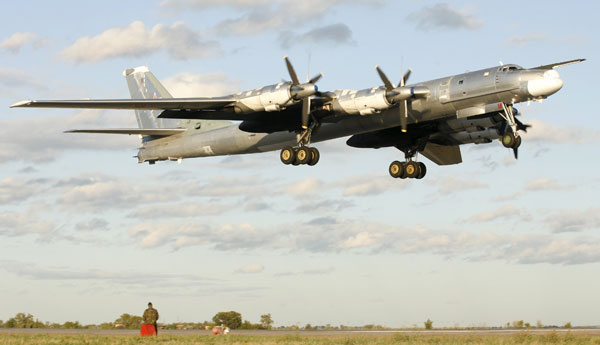 A Russian TU-95 bomber, or Bear, lands at a military airbase in Engels, some 900 km (559 miles) south of Moscow, Russia, in this August 7, 2008 file photo.[Photo/Agencies]
MOSCOW - A Russian strategic bomber Tu-95 with seven crew members onboard has crashed in the Far Eastern region of Khabarovsk, RIA Novosti quoted the Russian Defense Ministry as saying Tuesday.
The seven crew members parachuted out of the aircraft before the crash, and a search for them is underway, the ministry's press service said.
A rescue plane was circling over the crash area looking for survivors, and no casualty has been reported so far. According to the ministry, the crash was probably caused by a malfunction.
The crash occurred in an unpopulated area 80 kilometers from the regional capital city of Khabarovsk at 9:50 a.m. Moscow time (0650 GMT) during a routine training mission. The aircraft wasn't carrying ammunition.
This is the second accident involving the Tu-95 within roughly a month. On June 8, several crew members were injured as a Tu-95 ran off the runway when taking off during a training mission in the Far Eastern Amur region.
Since June, at least three Russian warplanes have crashed, including two MiG-29 and one Su-24 jet fighters.
The four-engine Tu-95 entered service in the 1950s and is the longest-serving Tupolev strategic bomber and missile carrier designed by the Soviet Union during the Cold War.