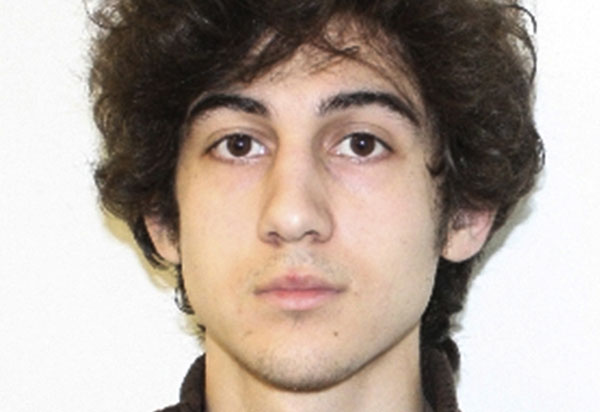 Boston Marathon bombing suspect Dzhokhar Tsarnaev is pictured in an undated FBI handout photo.[Photo/Agencies]
WASHINGTON  -- Prosecutors and the defense for 2013 Boston Marathon bombing suspect Dzhokhar Tsarnaev finished their closing arguments on Monday, in which prosecutors tried to depict Tsarnaev as an extremist who conducted "a cold, calculated terrorist act", while the defense, though acknowledging Tsarnaev's involvement in the attacks, went to great length to save Tsarnaev from a possible death penalty.
"There was nothing about this day that was a twist of fate. This was a cold, calculated terrorist act. This was intentional. It was bloodthirsty," said Assistant U.S. Attorney Aloke Chakravarty, depicting the attacks as a deliberate act to "punish America".
"he chose a day where there would be civilians on the sidewalk, and he and his brother targeted those civilians- men, women and children- because he wanted to make a point," said Chakravarty. " It was to tell America that 'We will not be terrorized by you anymore. We will terrorize you.'"
Tsarnaev, a 21-year-old Kyrgyzstan-born U.S. citizen, faces 30 charges, including conspiring with his older brother Tamerlan Tsarnaev to detonate powerful home-made bombs which killed three people and maimed more than 260 at the crowded finishing line at the signature event of Boston Marathon on April 15, 2013. He is also charged in the killing of a police officer three days later while he was on the run.
The other suspect, Tamerlan Tsarnaev, was killed in confrontation with the police.
Among the 30 charges, 17 counts carry the death penalty as possible punishment.
Though Tsarnaev pleaded not guilty, from the beginning of the trial, his defense team focused on convincing the juror that he was under the influence of his dominant older brother, a defense tactic that was designed not to win the trial, but to avoid the death penalty.
"In the past few weeks we have come face to face with tragedy, suffering and grief in dimensions none of us could imagine. We've heard words; we've heard screams and we've heard cries. We've seen shocking videos; we've seen horrific photos..." the leading defense lawyer Judy Clarke told jurors in her closing arguments for the defendant, stressing that there is "no excuse" for what happened.
"We are not asking you to excuse the conduct, but let's look at the varying roles," said Clarke. "You know who made these bombs. It was Tamerlan...If not for Tamerlan, it (the bombing attacks) wouldn't have happened."
In her 50-minute closing argument, Clarke repeatedly referred to the fact that Tsarnaev was 19 and his older brother was 26, and called Tsarnaev "a teenager".
The trial results were expected Tuesday. If the jury finds Tsarnaev guilty, the trial will then move to its second and crucial phase, where the jury determines whether he will be executed or serve a life sentence without parole.