A new center for national science, another for industrial innovation and a third for advanced medicine will be key elements in the high-tech future of Hefei, Anhui province, according to a senior official.
Wu Cunrong, Hefei's Party chief, said the recent economic and social progress of the city has come as a result of a focus on high tech and specialization.
"For Hefei, its biggest advantages are science and education," said Wu, adding that these qualities provide "the best hope" for a city supervising four districts, four counties, one county-level city and Chaohu Lake.
Ranking third in the country for scientific research behind Beijing and Shanghai, Hefei is already home to two major Chinese Academy of Sciences branch institutes - the University of Science and Technology of China and the CAS Hefei Institutes of Physical Science - and now plans to build a Comprehensive National Science Center and National Industrial Innovation Center to further bolster its position.
Its cutting-edge advantage comes from a focus on the most up-to-date technologies, Wu said, including flat panel displays, solar photovoltaics, new energy vehicles, smart voice technology, high-end medical equipment and robotics.
The city is also building an ion medical center to provide high-energy proton and heavy-ion radiotherapy for cancer patients within the next three years. These treatments are the world's most advanced, offering precision targeting of tumors.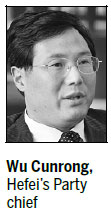 Once completed, the Hefei Ion Medical Center will make a "substantive contribution" to world healthcare, Wu said, as around 25 percent of cancer patients receiving the therapy are expected to fully recover.
The Party chief is also proud of another project.
In 2013, Hefei established the China (Hefei) International Smart Voice Industrial Park, dubbed Voice Valley, which Wu said is set to "facilitate the transition from the current 'touching-screen time' to the 'sound-generated epoch' with smart voice technology".
Wu believes the city's strong tradition of investment in science and innovation has greatly added to its competitiveness on the national and international arena.
Currently, there are nearly 3,000 overseas-invested companies in Hefei and it has fostered cooperative ties with 13 cities in other countries.
The city also plans to create a number of its own multinational enterprises and support firms in "going global" through establishing new companies, share offerings, mergers and acquisitions.
"We'll intensify coordination with our richer neighbors like Shanghai, Nanjing and Suzhou and learn from them for further development," Wu said.