Administrations at all levels are required to contribute to the building of the nation's clean governance system while maintaining the economy's growth momentum.
The requirement was set forth by Premier Li Keqiang at a State Council meeting on clean governance on Monday.
Wang Qishan, head of the nation's anti-corruption watchdog, the Central Commission for Discipline Inspection of the Communist Party of China, was present at the meeting, and provincial governors participated via teleconference.
Li stressed that while maintaining "an appropriate range" of economic growth, the government must also make further progress in its fight against corruption and efforts to improve public services.
Several key measures will be implemented to establish clean governance and combat corruption this year.
First, the government will have to slash more requirements for administrative approval. Investments will no longer require mandatory review unless they are related to security or environmental protection.
Second, officials will be held accountable for implementing key policies and projects from the State Council this year, and awards will be given to those who work effectively in this regard.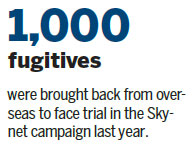 Third, strict inspection will be carried out on special financial funds and government spending, and more money will be spent on weaker sectors and to improve people's livelihood.
Li also required government at all levels to provide a clear list of government powers. The government is also required to use Internet technology and big data, both in supervising various departments as well as for future trading of public resources, to avoid any possible corruption.
The government made strides last year in establishing effective, clean governance as well as streamlining power. A total of 311 items were removed from the administrative examination and approval list or delegated to lower levels, and items requiring central government pricing were reduced by 80 percent. Government funds were used more effectively as a result of such efforts. Additionally, the Skynet campaign brought back more than 1,000 economic fugitives from overseas last year to face trial.
Ji Weidong, dean of KoGuan Law School at Shanghai Jiao Tong University, said he believes such efforts will better help China to stimulate market impetus, although a continuous effort will be needed.
He also stressed that using Internet technology for data collection in department supervision is a good and effective idea, but added that such supervision must respect market and personal diversity.
zhangyue@chinadaily.com.cn
(China Daily 03/29/2016 page3)