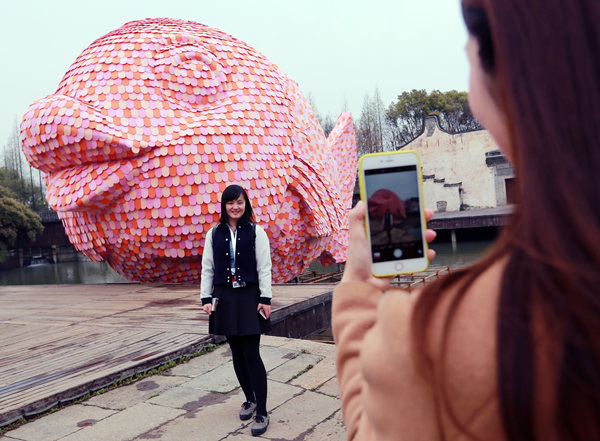 A visitor takes pictures in front of the pink Floating Fish in Wuzhen, Zhejiang province, on Sunday. Zhang Di / For China Daily
After his giant Yellow Duck debuted in Hong Kong three years ago, Florentijn Hofman has made a giant pink Floating Fish for Wuzhen, an ancient water town in Zhejiang province.
It is the first time the Dutch artist has made an animal-related work on the Chinese mainland.
The 15-meter-long, 7-meter-high fish — made from thousands of swimming kickboards for children — floats on a pond at a theater in Wuzhen.
It was shown to the public on Sunday as part of the Wuzhen International Contemporary Art Exhibition.
"I got inspiration from Wuzhen and from a Chinese folk story that a fish jumping the 'dragon gate' brings luck and wealth for people," Hofman said.
Six months ago, he was invited by the Culture Wuzhen Company to create a work for the art show, which features works by influential artists.
Hofman then visited Wuzhen, one of the country's most popular tourist towns, where he saw windows of wooden houses with fish sculptures and also carp swimming in rivers, from where he says his inspiration came from.
The theater looks like a sea world and the dolphin-shaped water area fits well with the fish installation, he said.
He chose pink for his fish so that it would stand out from its surroundings.