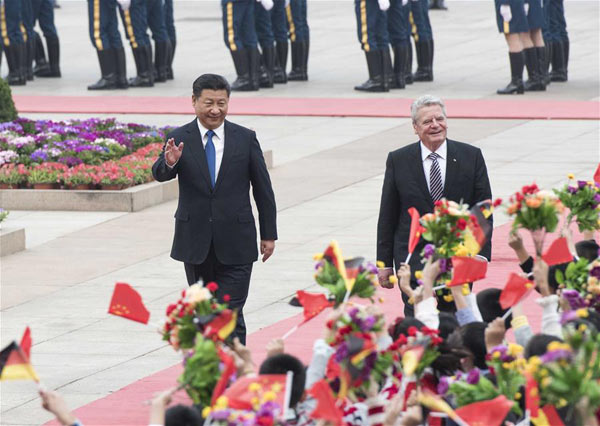 Chinese President Xi Jinping (L) holds a welcoming ceremony for visiting German President Joachim Gauck before their talks at the Great Hall of the People in Beijing, capital of China, on March 21, 2016. [Photo/Xinhua]
"These initiatives bring new opportunities for Sino-German cooperation", Ma said, adding that the two countries can cooperate in infrastructure construction in Eastern European countries.
Li Lezeng, an expert on German studies at Tongji University in Shanghai, said that amid a global economic slowdown, China and Germany have both emphasized technical innovation and green development. "China can learn from Germany's experience in policymaking and technical innovation concerning environmental protection while developing the economy," Li said.
Sino-German relations have deepened recently, with 110 cooperative projects currently being implemented, according to China's Foreign Ministry.
Germany is also the largest nonregional shareholder of the China-led Asian Infrastructure Investment Bank, which aims to fund infrastructure and investment in the region.
Contact the writers at anbaijie@chinadaily.com.cn