City's junior high school educators among most qualified in the world, survey finds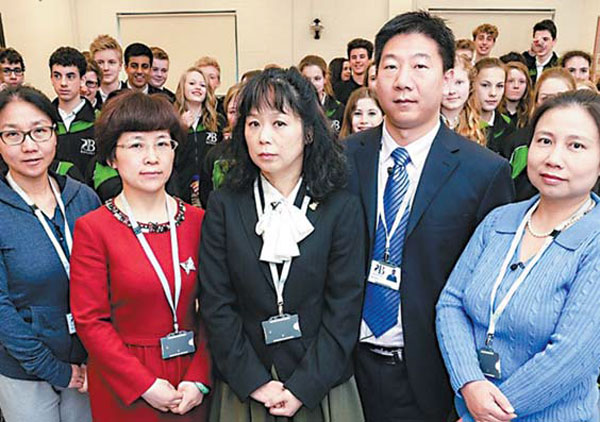 The five Chinese teachers featured in the BBC documentary Are Our Kids Tough Enough? Chinese School. The documentary triggered a heated debate on British and Chinese education methods.
Experts have rated Shanghai's junior high school teachers among the world's most qualified, thanks to their diversified teaching approaches, well-rounded training and rewarding career paths.
The assessment came after local teachers scored highest in 12 indicators in an international survey.
The city attaches great importance to cultivating first-class teachers and giving them rewarding career opportunities, said Zhang Minxuan, director of the Research Institute of International and Comparative Education at Shanghai Normal University.
In addition to the 12 indicators, such as efficiency of lessons, encouraging students to be engaged in classes, and professional training, Shanghai teachers' overall performance in nearly 40 indicators far exceeded the international average standard, the survey found.
It was carried out by the Organization for Economic Cooperation and Development.
Nearly 4,000 Shanghai teachers from 199 junior high schools responded to the survey, which also polled teachers in 37 other countries and regions, including Australia, Italy, Singapore and Japan, over the past three years.
In an interview run by the journal Shanghai Education on WeChat, Karine Tremblay, director of the survey project, said Shanghai teachers have in-depth exchanges between peers, which helps them to "grow together on a fast track".
"We found that many initiatives concerning teachers' professional development implemented in Shanghai can serve as world models," she said.
In the OECD's 2012 Program for International Student Assessment, Shanghai students topped the ranks in math, reading and science tests in competition with those from dozens of countries.
This helped to generate the BBC documentary series Are Our Kids Tough Enough? Chinese School, which was broadcast in August.