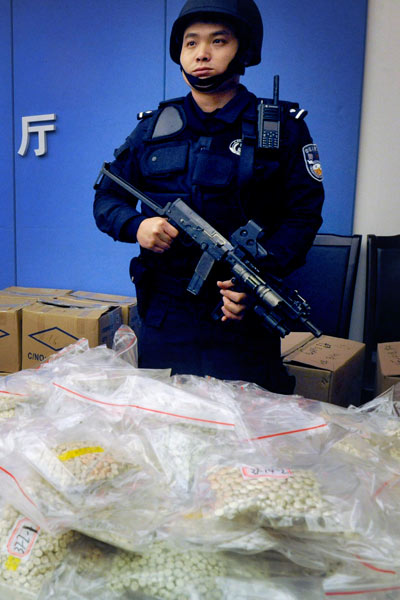 Drugs seized by police are displayed in Guangzhou, Guangdong province, in January.[Photo by Chao Xiao/China Daily]
But number of registered users in the country has come down significantly in recent years
The number of youths using illegal drugs increased last year, accounting for 62 percent of registered users nationwide, the 2015 China Drug Situation Report shows.
Youths are also major participants in the illegal drug trade, according to the annual report released by the Public Security Ministry on Thursday.
It said people under the age of 35 accounted for 61.3 percent of the 194,000 suspects apprehended last year. Of the current 2.34 million registered drug users in the country, 1.8 percent are under the age of 18 and 60.6 percent are 18 to 35.
In 2014, people under the age of 35 accounted for 57.1 percent of illegal drug users. Drug issues attracted wide public attention last year with people from a variety of sectors being caught.
In September, 18 county officials in Hunan province were disciplined in a highly unusual instance of civil servants and members of the Communist Party of China being openly punished over using illicit drugs.
Some 39 functionaries have been caught using drugs since a local regulation on drug use among Party members and civil servants was rolled out in Hengyang county, Hunan, in January last year.
Liu Qunlin, former procurator-general, and Gong Weiguo, former mayor, in Linxiang, were being investigated for suspected drug use last year.
In the entertainment sector, more than a dozen film stars and singers have been caught using illicit substances, including Jaycee Chan, son of actor Jackie Chan, who was sentenced to six months in prison for a drug offense in January last year.
Drug use by teenagers was on the rise last year. In a typical incident, 16 students in Beijing were detained after a raid on a dormitory at Beijing Midi School of Music in November.
However, the total number of registered illegal drug users in China dropped by 20 percent to 2.34 million last year, according to the report.
"Our drug situation is generally controllable and drug issues haven't affected the country's economic growth and social development," said Liu Yuejin, deputy head of the China National Narcotics Control Commission.
China had 2.95 million registered drug users by the end of 2014 and the number fell due to a considerable number of recovered drug users.
A total of 1.14 million recovered drug users who hadn't used illicit substances for three consecutive years were removed from the list last year, Liu said.
Liu added that around 530,000 new illegal drug users have been found and registered last year, a 14.6 percent year-on-year increase.