Breast-feeding, diaper-changing facilities need to be better equipped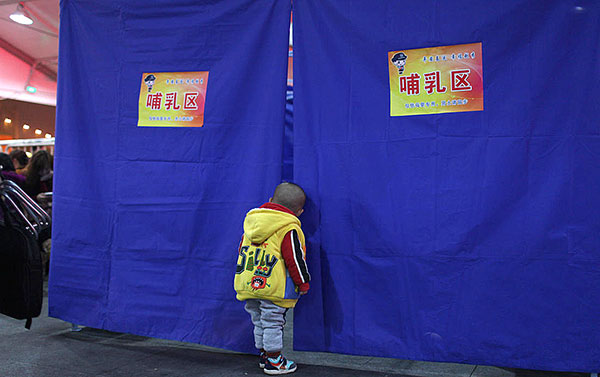 A three-year-old boy peers curiously inside a mother-and-baby room at Guangzhou Railway Station in February 2015. The temporary room was prepared for the annual Spring Festival holiday travel rush. Bai Shi / For China Daily
Experts and the public have called for improved baby-care rooms, sparked by a celebrity's online account of her recent embarrassing experience.
Actress Ma Yili, who has 40 million fans on Sina Weibo, recorded her experience at an airport last week when using an ill-equipped room normally reserved for mothers to breast-feed their babies or change diapers.
More than 13,000 netizens echoed Ma's awful experience. Others shared their accounts of using better-equipped rooms in countries such as Australia, saying they hoped to see an improvement in China.
Ma said that her baby girl had diarrhea before boarding the plane, but it was difficult to change her diaper because the mother-and-baby room was under equipped. As a result, the baby's pants and her hands were soiled and she had to throw away the pants.
"Every time I take my baby out it is very tiring," said a netizen. "I have to think of all sorts of methods not to expose myself when breast-feeding my baby."
"Mother-and-baby rooms in Australia are as good as a home," said another netizen, Wu Ziyu. "There are even free showers right next to the rooms."
In Japan, many public places, such as airports, shopping malls and entertainment venues, are required by law to be equipped with mother-and-baby rooms, and the rooms are usually equipped with small beds with safety belts, diaper vending machines, tissues, sofas, diaper changing pads and microwaves to heat milk and food, according to a report by China National Radio.
In Australia, such rooms have special tables for diaper changing and many also have televisions that broadcast children's programs, the report said.
Ma said in the post that these rooms are lacking or poorly equipped in China, and many only have a table and a chair, causing great inconvenience.

Wang Sumei, a gynecologist at Beijing Chaoyang Hospital, described the rooms as essential public facilities that should be improved.
"Babies keep crying when they are hungry and need breast-feeding, which they cannot control. This will also cause a disturbance in public places," she said. "Mothers who take their babies out need such facilities to breast-feed their babies in private."
Rooms for mothers and babies are available in many public facilities in Beijing, but many of them are not adequately equipped, Chang Hongyan, vice-president of the Beijing Women's Federation, said during a meeting in January.
A unified standard should be adopted when establishing such facilities so they will include all basic equipment, she said.