Top official's visit and prime spot on New Year TV gala cements popularity and story of historic walkway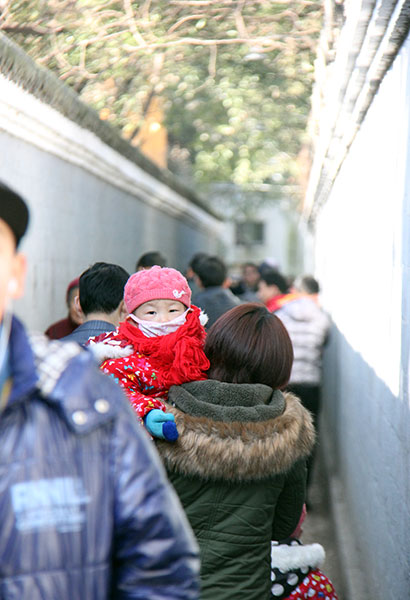 Visitors flock to Liuchi Lane in Tongcheng city, Anhui province, to admire the historic site. Photos by Zhu Lixin / China Daily
In East China's Anhui province there is a 2-meter-wide lane that separates a pair of gray walls.
At first glance it may seem insignificant, but to those who know its history, Liuchi Lane in Tongcheng symbolizes much more than its initial appearance would suggest.
During the weeklong Spring Festival, the lane was filled with thousands of visitors each day - drawn to the 100-meter-long lane by the story behind its creation, and the lessons that can be learned from it.
The name derives from the Mandarin word for six and "chi", a traditional Chinese unit of length that corresponds to one-third of a meter.
It was so named because of its width, and in the early Qing Dynasty (1644-1911) it served as the boundary between the households of two eminent families.
To the south was the Zhang family and to the north the Wus. Both had male members in high positions within Emperor Kangxi's (1654-1722) court, or in other regions around the country, but the two families quarreled.
The source of their dispute was the boundary between their two properties, and which family had the right to build a wall on the dividing line. After trying, and failing, to appeal to a regional official for mediation, the Zhangs wrote to Zhang Ying, their most prominent family member and a trusted top official in the emperor's court.
His response, which is still celebrated to this day in the form of a poem, did not provide the support that his family had hoped for.
Instead, he called for his kinfolk to step back 1 meter from the boundary - a suggestion that so moved the warring parties, the story goes, that both did exactly that and the lane was born.
This legend gained national exposure following a visit by Wang Qishan, China's top graft-buster and head of the ruling Party's Central Commission for Discipline Inspection, on Nov 15, 2014.