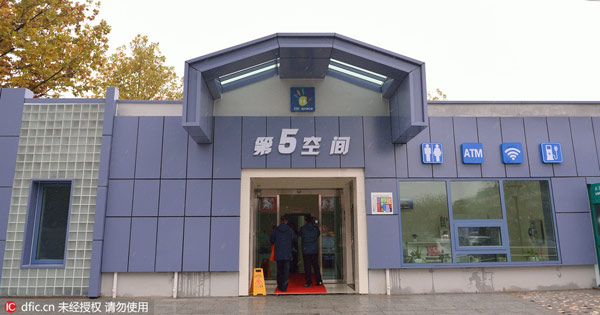 A public toilet equipped with WiFi, ATM and charging facility in Beijing. [Photo/IC]
Foreigners may frown at squat toilets and terrible odors in China's public restrooms but the situation is expected to change as China considers blacklisting those behaving badly in public toilets at scenic spots.
The potential move against uncivilized behavior in public conveniences was revealed by Li Shihong, deputy chief of the China National Tourism Administration (NTA), the country's tourism regulator. The move is aimed at improving the image of China's tourist attractions.
"Many people spend a lot of time dressing themselves but they do not spare a second to flush the toilet. Toilet civilization has a long way to go in China,' said Li Jinzao, director of the NTA.
In addition to blacklisting those behaving badly, the country will invest more than 12.5 billion yuan ($1.9 billion) to push forward "toilet reform" which will be financed by central and local government funds as well as private investors.
The "toilet reform" was initiated by the NTA in 2015. Since its launch, 22,000 public toilets have been built in scenic spots across the country, and this year 25,000 more are expected to be erected, the NTA said at a national conference on public toilets.
Energy- and water-saving and deodorization technology will be applied in new toilets, said the NTA.
China's restroom issue has also drawn attention from foreign organizations. To find solutions to better dispose of and recycle toilet waste, a toilet-themed innovation contest jointly held by the NTA and Bill & Melinda Gates Foundation is collecting designs from across the country.