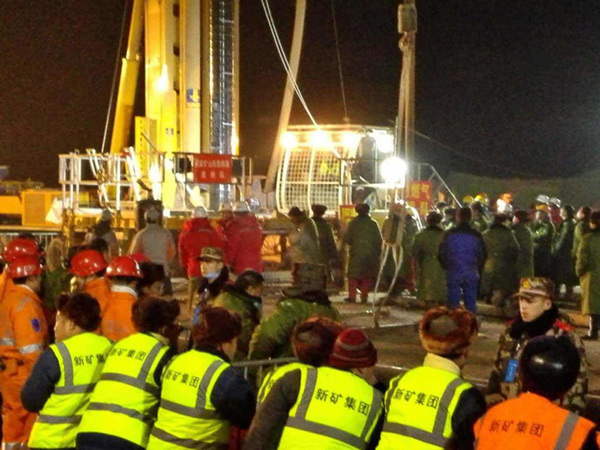 The rescue scene in Pingyi, East China's Shandong province. [Ju Chuanjiang and Zhao Ruixue/China Daily]
Rescue challenges
The rescue work faced many challenges due to the complex situation.
There were continuous cave-ins inside the mine, with some falling rocks weighing tons of kilos, which severely deformed pitshaft and almost blocked the pathway at the bottom of the mine.
Many pathways that rescuers dug out and restored were destroyed several times by the falling debris.
While boring holes in the ground drills were stuck many times due to the complex geologic structure.
Rescue bases were flooded by underground water and huge amount of water left by surrounding goafs was 60 meters higher than the area that miners were trapped. If widespread flooding had occurred the consequences were unthinkable.
Life underground
The four miners created a living space of six to eight square meters underground.
Officials at the rescue center talked to them through phone several times a day while psychologists chatted with them twice a day.
Video clips of the ongoing rescue work was also played to them to give them comfort and hope.
Rescuers also sent them poker cards through the hole for them to pass time.