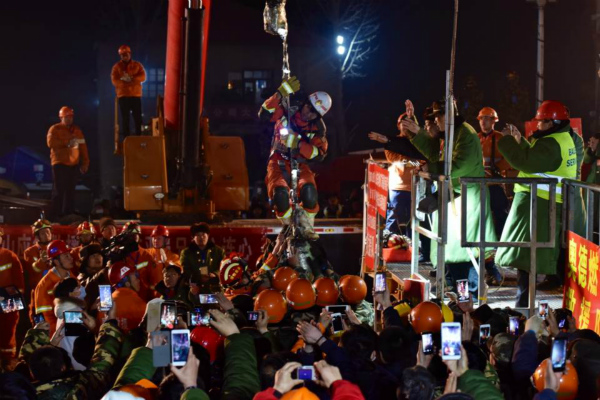 One of the four miners is lifted out of the collapsed gypsum mine after being trapped for 36 days. [Photo by Yu Peng  for  China Daily]
Video: The last miner being lifted out
Zhang Shuping, mayor of Linyi city in East China's Shandong province said that the city will have stricter oversight on its non-coal mining industry. The approval of new non-coal mines will be halted and an overhaul will be done in the existing 212 non-coal mines in the city.
Disused mine shafts, covering an area of more than 1,000,000 square meters, will also be dealt with by professional measures, the mayor said.
Zhang made the remarks after four miners have been lifted out on Friday night after being trapped for 36 days in a collapsed gypsum mine in the city's Pingyi county.
The four miners lifted out on Friday night are in a stable condition. 
They have received biochemical tests on Jan 30 by professor Wu Dawei, chief of ICU in Qilu Hospital of Shandong University. The test indexes are normal including blood pressure and pulses except one miner is suffering from low levels of blood potassium. So far, the miners have no life threatening illnesses, but doctors will look over their health conditions for another two days.
The rescued miners are (in order of their being lifted out of the collapsed mine):
Zhao Zhicheng, 50, cage tender
Li Qiusheng, 39, cage tender
Guang Qingji, 58, signalman
Hua Mingxi, 36, forklift driver
It is the first time that trapped miners have been rescued through a large caliber hole in China and the third such case in the world, setting an example for mine rescue.
Rescuers dropped a rescue harness down the mine in Pingyi earlier in the night to lift the four miners who have been trapped since December 25.
Helmets and gloves were already transported underground as rescue equipments, according to China Central Television.
The mine collapse trapped 29 miners working underground on Dec 25. Eleven escaped or were rescued, one was confirmed dead and 13 others were listed as missing.
The four miners were found alive on Dec 30. Rescuers sent them food, drinks, clothes, medicine and lamps through a small hole drilled into the ground.
A medical team is standing by the collapsed mine in preparation to send the miners to ambulances for first aid. The miners may suffer from heart or brain problems due to overexcitement after being lifted to the surface, according to medical workers on the scene.