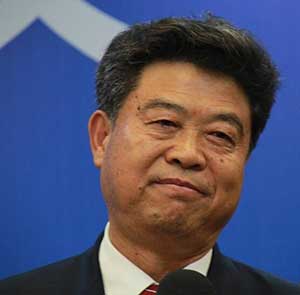 Deng Xiangchao,member of CPPCC Shandong Committee.
One man's quest to have a rare metabolic disease listed as a chronic condition eligible for basic medical insurance is helping young patients across Shandong province.
Deng Xiangchao, a member of the Shandong Provincial Committee of the Chinese People's Political Consultative Conference, submitted a proposal last year to help residents with PKU, or phenylketonuria, which causes developmental disabilities and neurological problems when treatment is not started within the first few weeks of life.
Deng couldn't hold back his tears on Tuesday in Jinan, the provincial capital, when discussing his success at a conference committee meeting.
Most children and adults with PKU must follow a special diet that strictly controls the intake of protein. Special formula, fruits and vegetables are best, while food such as milk, dairy products, meat, fish, chicken, eggs and nuts from their diets must be eliminated.
Cheng Haiying, the mother of a 12-year-old boy with PKU, spends at least 2,000 yuan ($304) monthly buying special food for her son. The boy was diagnosed with PKU just 19 days after birth, and Cheng quit her job to take care for him.
"If his special formula is stopped for even a couple of days, it poses a great challenge for both my child and me. Sometimes I felt I was on the verge of breakdown due to the financial pressure," Cheng said.
Having formula included as a medical insurance item would further ease her burden, but the proposal to cover it for patients from birth to age 18 has not yet been approved. "I hope practical moves are taken to cover the expense of special foods," she said.
The original request for insurance coverage came after Deng saw a TV show about PKU in 2012. He visited about 20 families coping with PKU in several cities in the province in 2013 and 2014, and submitted his proposal for insurance coverage to the CPPCC Shandong committee in January 2015.
"Two weeks after the proposal was put on record, related organizations, including the Shandong Health and Family Planning Commission and Shandong Human Resources and Social Security Department, called me to get more information about PKU," Deng said.
After additional research, the department issued a notice in July adding PKU to the basic medical insurance for outpatient treatment.
Zou Hui, a doctor at the neonatal screening center at Jinan Maternity and Child Care Hospital, said the move will reimburse 60 percent to 70 percent of the thousands of yuan in expenses families incur for outpatient treatment.
While the expense of special formula is not yet covered by the insurance, "it's a good trend", he said. "I think they might do something more related to special food to help PKU families."
Some cities in Shandong already are helping families with PKU patients with food costs. Children with PKU from the ages of 6 to 18 in Yantai and Weifang have been eligible to receive 20,000 yuan annually in financial aid to cover special foods since 2014.
Deng said the expense of special formula is covered by governments or insurance companies in Canada and the United States. He will continue advocating for further assistance for families at the ongoing fourth session of the 11th Shandong CPPCC meeting in Jinan through Thursday.
In China, CPPCC members from various sectors, including the noncommunist political parties and federations of industry and commerce, submit proposals on a wide range of topics, including education, social security and public health to the committee's political advisory body.
If placed into the record, proposals are delegated to the appropriate organizations for action.