Experts call for other solutions to tackle air pollution, traffic congestion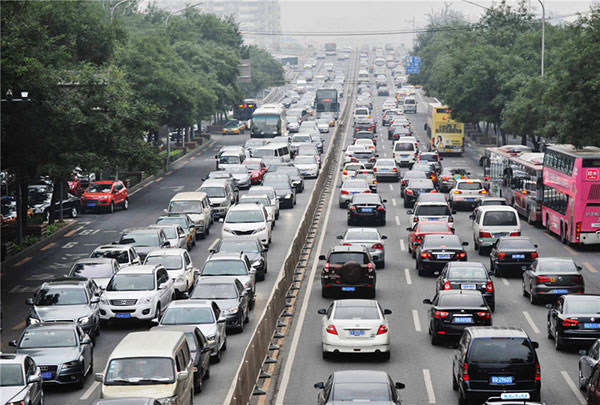 Traffic grinds to a standstill during the peak rush hour on Monday morning, Sept 22, 2014 near Liujiayao Bridge, Third Ring Road South in Beijing. [Photo/Xinhua]
A controversial proposal to ban half of Beijing's vehicles from the roads on alternate days during the winter would only be a stopgap measure, experts have warned.
No decision has yet been made on whether to permanently adopt the odd-even car ban, which would apply each year during the city's "winter heating season" from Nov 15 to March 15, Li Shixiang, Beijing's executive vice-mayor, told deputies of the People's Congress of Beijing last week.
Previously implemented during international events such as the 2008 Olympics, the Asia-Pacific Economic Cooperation summit in 2014 and on other heavily polluted days, the ban is still under discussion and it is not yet known if the policy will be applied in time for next winter, Rong Jun, spokesman of the Beijing Municipal Commission of Transport, told a news conference on Wednesday.
"Automobiles produce a lot of emissions to the detriment of residents' health and the problem is compounded in winter when the municipality's central heating systems are switched on. We have to choose between heating fueled by coal and the use of cars," Rong said.
Under current traffic rules, a fifth of the city's vehicles are obliged to be off the roads each weekday based on their license plate number, else face a penalty.
Rong said Beijing had only enforced the full odd-even car ban six times since its first use in 2008.
According to the Beijing Environmental Protection Bureau, vehicle emissions were responsible for 31 percent of the city's smog.
Previous bans successfully reduced airborne pollutants by 30 percent and lowered PM2.5, particulate matter with a diameter less than 2.5 microns that is hazardous to human health, by 20 to 25 percent, said Cheng Shuiyuan, professor in environmental and energy engineering at Beijing University of Technology.
Yet some transport experts described the ban as merely a stopgap measure and have called for other solutions to be found.
Chen Yanyan, a professor in transport at Beijing University of Technology, said traffic congestion is a common problem in big cities all over the world, but Beijing can learn from some other cities for better management.
"For example, in San Francisco, car owners can reserve parking spaces in advance or find out about parking conditions in central areas through an intelligent system, so they will not drive into the city if there is no space, which reduces traffic congestion."
Yang Guangwu, chief engineer of the Beijing Major Projects Construction Headquarters Office, said the capacity of the city's public transport system had been enhanced as more subway lines were opened.
The aim is for residents to be able to find a subway station within 750 meters of their homes or offices by the end of the decade, according to Huang Yan, director of Beijing Municipal Commission of Urban Planning.
"By 2021, the city will have 29 subway lines and 999 km of track, 80 percent more than its current length," Yang said. "It is more environmentally-friendly, convenient and efficient to take the subway than drive a car."

Wang Xiaodong and Zheng Jinran contributed to this story.