When I was a kid at school, there was one line from William Shakespeare that summed up my life on a cold winter morning in darkest Oxfordshire. And here it is.
"And then the whining schoolboy, with his satchel and shining morning face, creeping like a snail unwillingly to school."
That line comes from his comedy, As You Like It, something I and millions of other British schoolchildren studied because then, as now, Shakespeare's works formed part of the national curriculum and were required reading until you left school.
I can even remember which play I studied in my last years at grammar school - the frightening and tragic tale of King Lear, which included the immortal line "out, vile jelly" as the tortured king, betrayed by his own daughters, gouged out his own eyes.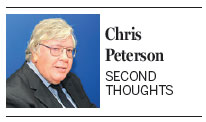 This year Britain is celebrating 400 years since the great man's birth, and there's no escaping him, even in everyday life here.
Britain's Royal Shakespeare Company, based in both Stratford-upon-Avon, where he was born, and the City of London, where he lived and worked, puts on a season of his plays annually.
Known respectfully as the Bard of Stratford-upon-Avon, Shakespeare is honored with his face on banknotes, and the Globe Theatre on London's South Bank, which has been carefully recreated as a theater in the round - in other words, the stage projects out into the audience area and there are no seats.
There seems to be a Shakespearean quote for all occasions. During the dark days of World War II, British prime minister Winston Churchill, himself never short of a quotable line, urged British filmmakers to shoot a color version of Shakespeare's Henry V, starring Laurence Olivier.
That 1944 film, faithful to Shakespeare's text, contains the stirring speech Henry V uttered just before the Battle of Agincourt against the French in 1415, when 5,000 exhausted soldiers, archers and knights took on a superior force of 20,000 Frenchmen - and won.
It concludes with the stirring cry "the Game's afoot: follow your spirit and upon this charge, cry 'God for Harry, England and Saint George!' " Perfect propaganda when you're fighting a war.
Fast forward to this month in Britain's Parliament, and you have UK Prime Minister David Cameron drawing upon Shakespeare to mock Jeremy Corbyn, the leader of the opposition Labour Party, who had just taken an inordinately long time to carry out a routine reshuffle of his parliamentary spokesmen.
The hapless Corbyn could only squirm in his seat as Cameron let rip with the following lines. (Shakespearean quotes capitalized.)
"There was a moment when I thought this reshuffle could go into its TWELFTH NIGHT. It was going to be a revenge reshuffle, so it was going to be AS YOU LIKE IT, but I think we can conclude it was a COMEDY OF ERRORS, perhaps MUCH ADO ABOUT NOTHING.
"But there will be those who worry it was a case of LOVE'S LABOUR'S LOST."
I also have a message for all my friends and colleagues in China who may have had to struggle with Shakespeare's Elizabethan English in college or at school.
Help is on the way - as part of an Anglo-Chinese cultural program, the entire works of Shakespeare are being translated into Chinese with financial backing from the British government, and the Royal Shakespeare Company will be putting them on in various parts of China from this year onwards.
Enjoy.