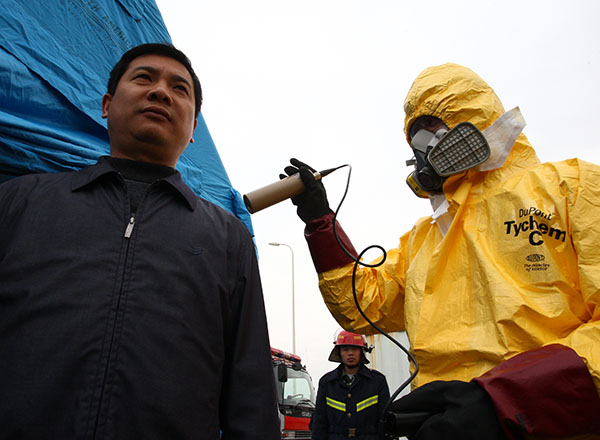 A nuclear leakage emergency drill is held in Zhuhai, south China's Guangdong province on March 11, 2013. [Photo/CFP]
China will form a national nuclear emergency response task force to handle possible serious accidents and take part in overseas operations, said a senior official overseeing the nation's nuclear power industry.
Xu Dazhe, head of China Atomic Energy Authority, said the force will have more than 300 professionals and will work with the existing some 30 nuclear emergency teams to conduct search and rescue operations after any possible nuclear accident.
He said the country is also drafting laws on nuclear energy and nuclear security.
Xu made the remarks at a news conference in Beijing on Wednesday hosted by the State Council Information Office that released a white paper called China's Nuclear Emergency Preparedness.
By the end of October 2015, China, which began to build its first nuclear power station in 1985, had 27 reactors in operation that have a total installed capacity of 25.5 gigawatt and 25 more under construction, according to the China Atomic Energy Authority.
Since China established its nuclear industry in the 1950s, the government has attached great importance to nuclear safety and emergency response. In 1991, the State Council established a national committee to cope with any nuclear emergencies.
In 1997, the government issued a national nuclear emergency plan and has since then revised it for several times. The latest version was released in June 2013.
It sets four levels of emergency response for possible incidents or accidents in civil nuclear stations and lists directions for dealing with accidents that may happen during the transportation of spent nuclear fuel or aerospace vehicles equipped with nuclear devices.