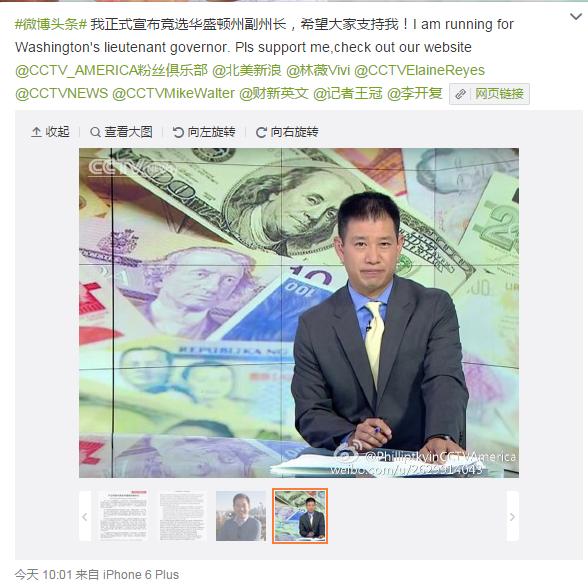 A screen capture of Yin's post on Weibo announcing his candidacy for Washington's lieutenant governor.
Phillip Yin, a former anchor and journalist with China's national television station announced on his Weibo account Friday that he is running for Washington's lieutenant governor, sparking heated debate among Chinese Internet users.
Yin, a republican born in Yakima, Washington State, joined China Central Television (CCTV) in 2011 and left in December after helping launch CCTV America and reporting the 2012 US presidential election.
"I'm excited and honored to announce my candidacy for Lieutenant Governor of the great state of Washington," said Yin on his Weibo.
"With the support of numerous state officials, private sector executives and the many great workers of the state, I know we can make Washington the most family-friendly, job-creating and innovative state in the country."
Yin will speak at the Washington State Republican Party State Committee Meeting in Yakima on Saturday.
The graduate from Georgetown University also served as an anchor/reporter for Bloomberg Television covering economic and market developments.
In the banking community, Yin was a senior portfolio advisor at Unifund, a Swiss-based investment company. He provided institutional strategy services for their global portfolio of private and public assets.
"My private sector experience will ensure workers and businesses have the fairest playing field," said Yin.
Yin's post was widely commented by Chinese Internet users. Some say US-born Chinese people will bring more diversified voices to US political field while others compared him to former US ambassador Gary Locke who also served as governor of the state of Washington.