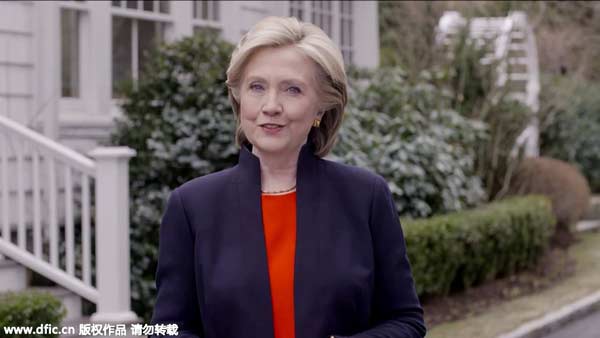 Video grab of Hillary Rodham Clinton announcing that she would seek the presidency for a second time, immediately establishing herself as the likely 2016 Democratic nominee, in Washington, DC, USA on April 12, 2015. [Photo/IC]
With less than 500 days until the 2016 US presidential election, it's mourning in America, an assault on our ears and often an affront to our intelligence, not to mention a bonanza for the American media's bottom line. The noisy cacophony of democracy is hitting a rising crescendo with no less than a score of candidates in both parties vying to succeed President Barack Obama at an estimated cost to donors and taxpayers of $5-10 billion. What does it mean for China and can we really believe what the candidates are saying about the Middle Kingdom at this juncture?
The short answer is that we're not going to learn much or even hear much about China or Sino-American relations from candidate statements in this primary election phase to choose the Democratic and Republican nominees. And what we do hear is subject to change without notice in the extreme during the months immediately before the Nov 8, 2016 vote. Think red-baiting by virulently anti-Communist Richard Nixon in the quarter-century before his 180 degree turn in 1972 to engage with China to get an idea of the extreme shift that can occur. In short, remembering Shakespeare's Macbeth, we're likely to hear mostly sound and fury signifying nothing.
The great American humorist Will Rogers said: "I don't belong to any organized political party, I'm a Democrat," Now, almost a century later, the same could be said about the Republicans and their 17 presidential hopefuls. Most all of them have said little about China, and I doubt that some of them could actually find China on the world map.
To his credit and not surprisingly, given his father's long-time engagement with China, Jeb Bush has said that the US has to have a constructive "deep" relationship with China because it's the most important and complex international relationship that the US has. And no surprise either that anti-Castro Cold Warrior Florida Sen. Marco Rubio has aggressively challenged some of China's actions in the South China Sea portending future criticisms.
Perhaps the most surprisingly positive comment about China came via a backhanded compliment from Donald Trump. He said that he loves China because "their leaders are much smarter than our leaders, and we can't sustain ourselves with that."
We may know more about the Republican candidates' positions after the two-part presidential "debate" on August 6th in Cleveland, Ohio. Likely though, most of the discussion will concern bread-and-butter domestic economic issues on which most presidential contests usually turn.