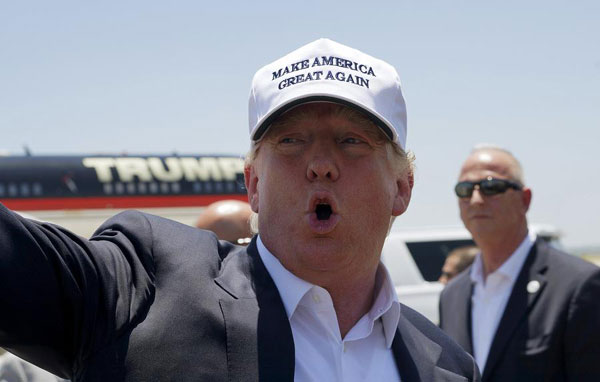 Republican presidential candidate Donald Trump talks to reporters as he arrives in Laredo, Texas July 23, 2015.[Photo/Agencies]
WASHINGTON - US billionaire businessman Donald Trump stands atop the Republican Party's field for the country's 2016 presidential election, according to a latest national poll.
Trump holds 18 percent support among Republicans in a CNN/ORC International Poll released Sunday morning. Former Florida governor Jeb Bush follows in second place with 15 percent.
Since a similar poll in late June, Trump's support has risen 6 percentage points.
"There's a movement going on, this is more than me," Trump said while discussing the latest poll results Sunday morning on CNN's " State of the Union." "People are tired of these incompetent politicians in Washington I can't say I'm unhappy or anything, I'm just not that surprised."
The poll also found that most Republican voters want Donald Trump to remain in the GOP presidential race.
Fifty two percent of registered Republicans and Republican- leaning independents want the outspoken real estate magnate to stay in the race, according to the CNN/ORC poll. Thirty three percent want him to drop out, however, and 15 percent say he should run as an independent.
The poll of 1,017 adults was conducted between July 22 and 25, after Trump mocked McCain's time as a prisoner of war, drawing condemnation from a broad spectrum of Republicans. The poll has a 3.5 percentage points margin of error.