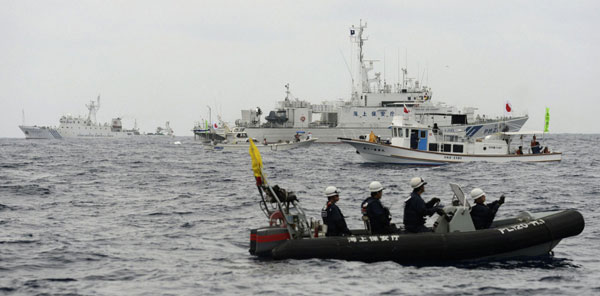 Chinese marine surveillance ship Haijian No. 46 (L) tries to approach towards Japanese fishing boats (2nd and 3rd from front) while a Japan Coast Guard boat sails (front), in the East China Sea, near Diaoyu islands, in this photo taken by Kyodo May 26, 2013. [Photo/Agencies]
Beijing is determined to protect its territory, the Foreign Ministry said on Tuesday as Japan warned it would send naval patrols demanding Chinese naval vessels leave waters near the Diaoyu Islands. 

"China's stance on the Diaoyu Islands is consistent and clear," Foreign Ministry spokesperson Hong Lei said at a regular press briefing, adding the islands have been Chinese territory since "ancient times".
"At the same time we do not want to see tensions escalate in the East China Sea and are willing to properly manage, control and settle the problems through dialogue and consultation."
Japanese Chief Cabinet Secretary Yoshihide Suga told a news conference on Tuesday that Tokyo had informed China that any foreign naval vessel that enters "Japanese territorial waters" for reasons other than "innocent passage" will be told to leave by a Japanese naval patrol.
He said Japan informed China of its decision in November, after Chinese "navy ships" sailed near the islands.

Late last year, a Chinese coastguard vessel, which Japan claimed had gun turrets, entered waters near the islands, Japan's coastguard said, adding that it was the first such "incursion" by an "armed Chinese vessel" in the area.
Huo jiangang, an expert on Japanese studies at the China Institutes of Contemporary International Relations, said Japan's move is the latest in its collective self-defense strategy which expands the role of its armed forces.
Xing Guangmei, a Beijing-based military expert, said he does not accept Japan's claim that China had sent armed warships to waters around the islands.
"China is not sending warships there. Maybe Japan means that China's coastguard vessel carries guns, but Japanese ships also carry guns. That does not change the nature of the law enforcement vessels."

He said if Japan sends its Self-Defense Force to waters near the islands, China should also send its navy.

He said if Japan sends the SDF, it will be embarking on the first step in militarizing the region, as so far both countries had only sent law enforcement vessels there.
Reuters contributed to this story.