In today's trending, a man with 1,500 kg of coins cannot exchange them at a bank, lavish costumes at wedding mistaken for film shoot, and 2,150-year-old tea leaves found in royal tomb.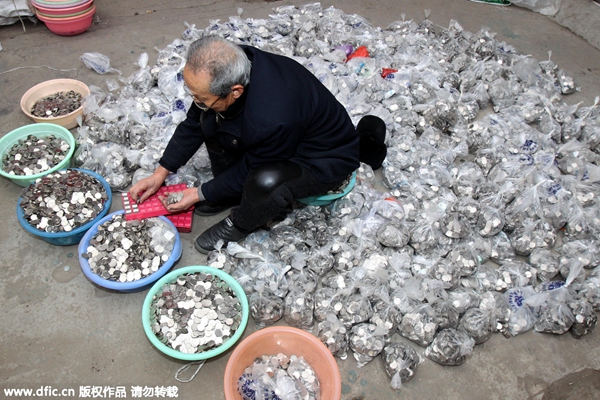 Zhang counts his coins. [Photo/IC]
Man struggles with 1,500 kg of coins
Most people want to have a lot of money. But perhaps they should be careful what they wish for.
A man, surnamed Zhang, in Zhengzhou, Central China's Henan province, is troubled by his 300,000 yuan in coins that weigh more than 1,500 kilograms, as no bank is willing to exchange these coins into banknotes as it is just too large an amount, dfic.cn reported on Tuesday.
Zhang said that he accumulated these coins in two months from coin-operated washing machines and coin-operated electric vehicle charging stations he runs. He used to exchange the coins with neighboring supermarkets in residential compounds and schools, but their demand for coins fell in recent months.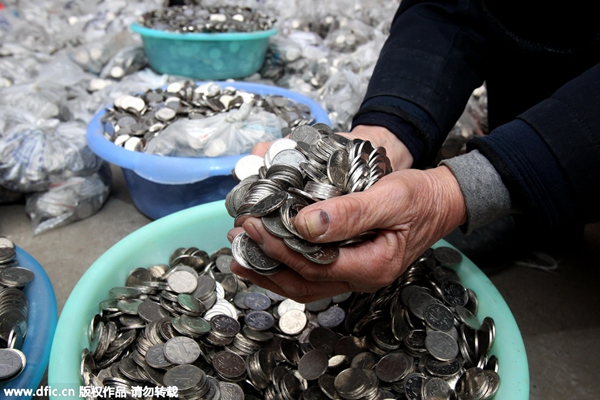 Zhang counts his coins. [Photo/IC]
In our next story, groom dressed as emperor goes viral for lavish wedding ceremony.