President Xi Jinping laid out China's proposals on international cooperation at the General Debate of the 70th Session of the UN General Assembly on September 28, saying that we should renew our commitment to the purposes and principles of the UN Charter, build a new type of international relations featuring win-win cooperation, and create a community of shared future for mankind. Here are four key words that define China's proposals to boost international cooperation.
World Climate Change Conference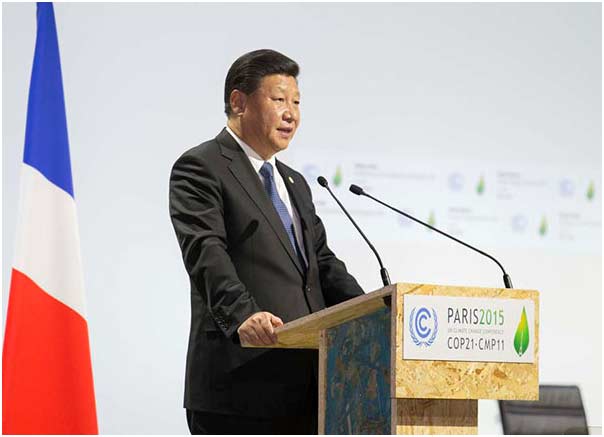 President Xi Jinping delivers a speech at the opening day of the World Climate Change Conference 2015 (COP21) at Le Bourget, near Paris, November 30, 2015. [Photo/Xinhua]
With extreme resolution and bold actions, China stands today as a staunch supporter, active contributor and constructive player in the global climate campaign, providing wisdom and inspiration to the conclusion of a major global climate agreement.
In President Xi Jinping's speech at the World Climate Change Conference in Paris in November, Xi reiterated China's pledge made in June to cut its carbon emissions per unit of the GDP by 60-65 percent from 2005 levels by 2030, and increase non-fossil fuel sources in primary energy consumption to about 20 percent and peak its carbon emissions by the same date.
Moreover, climate change efforts are already integrated into China's medium- and long-term program of economic and social development, and ecological endeavors features prominently in China's 13th Five-Year Plan (2016-2020).
China will, on the basis of technological and institutional innovation, adopt new policy measures to improve the industrial mix, build low-carbon system, develop green building and low-carbon transportation and establish a nationwide carbon-emission trading market, according to Xi.
While taking bold actions and making progress on its own climate change fight, China has also taken an active part in international cooperation in climate change and provided assistance within its capability to other developing countries.
The country has signed several bilateral climate agreements with big emitters such as the United State, France, India, Brazil and the European Union.
In September, Beijing announced the establishment of an independent South-South cooperation fund of 20 billion RMB ($3.1 billion) to help the developing countries affected by global warming.