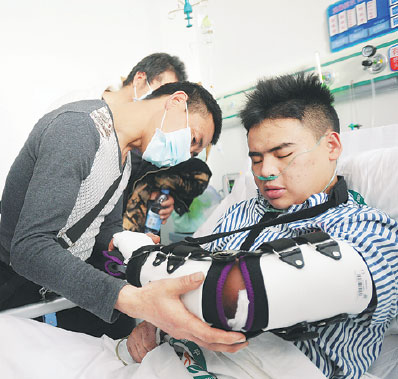 Tian Zeming (right), being tended to by his father on Thursday, is recovering at Guangming New District Hospital in Shenzhen. Tian was rescued from beneath debris on Wednesday, 67 hours after Sunday's deadly landslide. Xuan Hui / for China Daily
An investigation team has concluded that the landslide in Shenzhen was a safety accident, not a natural hazard, and the local government apologized to victims during a news conference on Friday.
Sunday's landslide buried or damaged 33 buildings in Shenzhen's Guangming New District and led to the bursting of a major gas pipeline in nearby region, cutting off the gas supply to neighboring Hong Kong.
As of Friday morning, 75 people remained missing, only one survivor had been rescued-on Wednesday morning-and four bodies had been found.
"The special investigation team of the State Council has determined that the landslide was the result of the collapse of a mountain of construction waste, not of the mountainside, which means that this was a safety accident instead of a natural disaster," Ma Xingrui, Party chief of Shenzhen said at the news conference.
"On behalf of the city Party committee and the city government, I strongly support the findings of the investigation team, and I promise that we will actively cooperate with further investigations," he said.
Ma said the local government will determine who is responsible and will apologize to all victims.
According to an earlier Global Times report, the construction waste was piled 100 meters high before the accident took place.
The site, operated by the Shenzhen LvWei Property Manage Co, is one of eight temporary construction waste storage sites in Shen-zhen.
According to an Agence France-Presse report, the Guangming New District government had been aware of improper piling of soil at the storage site and had urged action as early as July.
In an announcement dated July 10, officials said work at the site was not being performed according to approved plans, and they ordered the Hongao Construction Waste Dump to "speed up" work to bring its operations into line.
China Daily was unable to reach the company for comment.
AFP contributed to this story.