In today's trending, Shanghai ramen shop features two robot noodle chefs, a school's controversial move to show children pig slaughtering, and vendor pushes tangerines as well as apples on Christmas Eve.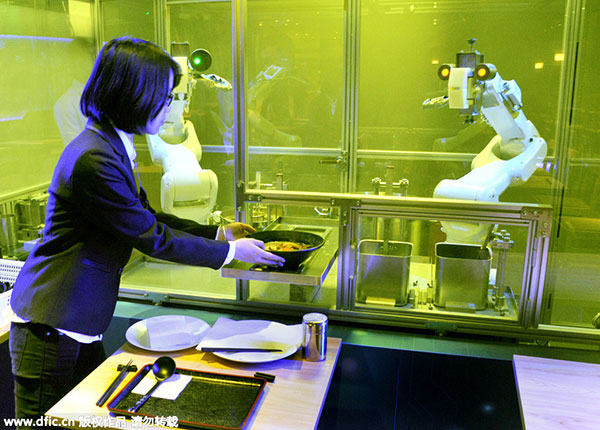 A waitress serves a bowl of noodles cooked by robots Koya and Kona at a new ramen restaurant in Shanghai, Dec 24, 2015. [Photo/IC]
Robot makes noodles in 90 seconds
A restaurant that serves Japanese ramen made by two robot "chefs" became a hit when it opened on Thursday in Shanghai, icpress.cn reported.
According to its owner Liu Jin, the two machines cost one million yuan ($154,000) and were made by a company in Japan. He said he considers them a gimmick but thinks robots will play a larger role in catering in the future.
The one million yuan price tag is about the same as it would cost Liu to employ two human chefs for six years. That's possibly the reason for the 58 yuan price tag on a bowl of ramen at his restaurant, which is about twice the price at another chain.
As with robots that have been used in car production for decades, Koya and Kona are programmed to complete a sequence of tasks, which they do with mesmerizing efficiency and no lack of panache. While the bots can't make noodles, they can boil and serve them and pour out the correct amount of soup into a waiting bowl. A waiter then adds the required garnish and delivers the dish to the customer.

Next up, a school's controversial move to show children pig slaughtering.