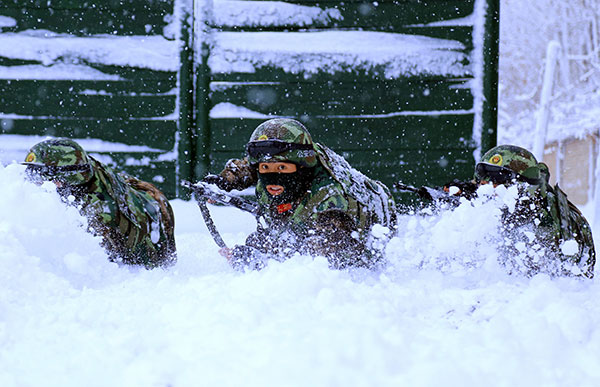 Border police officers conduct an anti-terror drill in Bortala, Xinjiang Uygur autonomous region, this month. The top legislature passed the country's first anti-terrorism law on Sunday, together with several other laws. ZHANG JIA/XINHUA
BEIJING - China's top legislature on Sunday adopted the country's first counter-terrorism law in the latest attempt to address terrorism at home and help maintain world security.
Lawmakers approved the legislation Sunday afternoon at the end of a week-long bimonthly session of the National People's Congress (NPC) Standing Committee.
At a press conference held on Sunday, An Weixing, an official with the public security ministry, at Sunday's press conference, said China is facing rising threats of terrorism.
"Terrorist attacks have caused heavy losses of people's lives and properties, posing a serious threat to our security, stability, economic development and ethnic unity," An said.
The new law, which will enter into force in January next year, will provide legal support to the country's counter-terrorism activities as well as collaboration with the international society, he said.
The much anticipated couter-terrorism law proposed a national leading organ for counter-terrorism work, which will be in charge of identifying terrorist activities and personnel, and coordinate nationwide anti-terrorist work.
The state will provide necessary financial support for key regions listed in the country's counter-terrorist plan, whereas professional anti-terrorist forces will be established by public security, national security authorities as well as armed forces.
A national intelligence center will be established to coordinate inter-departmental and trans-regional efforts on counter-terrorism intelligence and information.
The term "terrorism" is defined as any proposition or activity -- that, by means of violence, sabotage or threat, generates social panic, undermines public security, infringes on personal and property rights, and menaces government organs and international organizations -- with the aim to realize certain political and ideological purposes.