Sunday's landslide revealed the threat posed by illegal dumping and a lack of related regulation, report Xu Wei in Beijing, Zhou Mo in Shenzhen, Guangdong province, and Zhou Wenting in Shanghai.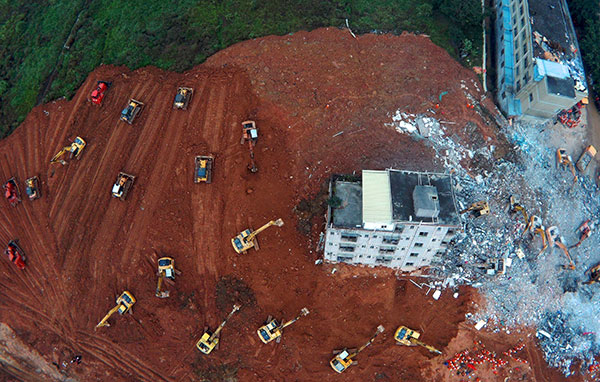 Rescue work continues in Shenzhen, Guangdong province, after a huge landslide of dirt and construction waste buried buildings on Sunday. JIN LIANGKUAI/XINHUA
On Thursday evening, as hundreds of excavators and members of search and rescue teams continued to comb tons of red mud that swamped three industrial parks, including 33 buildings, in Shenzhen, Guangdong province, experts were asking how the unstable subsoil and construction debris could have been piled so high that it posed a threat to public safety.
The huge volume of soil and building waste, estimated to cover 380,000 square meters, means rescue teams may have to dig 30 to 40 meters to locate buried buildings, Wang Guoshe, head of the Guangdong Fire Department, told a news briefing on Wednesday.
Rescuers were able to pull the first survivor from the buried buildings at about 6 am on Wednesday, 67 hours after the wall of mud and waste spilled over.
An investigation by the State Council is assessing whether the landslide was caused by contractors piling loose debris on top of an existing mound. While the original mound remained intact, the unstable material piled on top succumbed to the influence of gravity.
However, even before any conclusion has been reached, the State Council's Work Safety Committee has ordered a nationwide assessment of all dumping sites to prevent a similar disaster, according to a statement it released.
Industry experts and construction project managers said the problem is widespread in China, because the disposal of dirt and construction debris in urban areas has long lacked legal and official supervision.
"It's an alarm bell, and the lesson has been learned the hard way," said Chen Jialong, a professor at the Beijing University of Civil Engineering and Architecture, who monitors the disposal of subsoil and construction waste.
Chen, who is also deputy director of the National Committee of Construction Waste Management and Recycling at the China Association of Urban Environmental Sanitation, said that in recent years the volume of construction waste has risen rapidly in line with the rise in the rate of urbanization.
"It (the construction waste) is an issue that has basically been ignored by the national and local authorities. Dumps and recycling sites usually don't feature in urban planning programs or city budgets," he said.
A study conducted by the association estimated that about 1.5 billion metric tons of concrete waste and 2 billion tons of subsoil have been generated this year alone.
In 2013, the volume of construction waste reached 1 billion metric tons, 74 percent of which came from demolition work, but only 5 percent was recycled for use as a resource, according to the National Development and Reform Commission's annual October report on the utilization of resources.
Chen said most of the nation's construction waste is randomly dumped in suburban areas, and there are no laws or regulations to control its disposal in urban areas. "About 50 percent of cities have still not drafted any regulations on the issue," he said.
"It hardly occurs to most local authorities that dumping facilities for construction waste should be considered part of the city infrastructure, and should be included in their annual budget," he said.