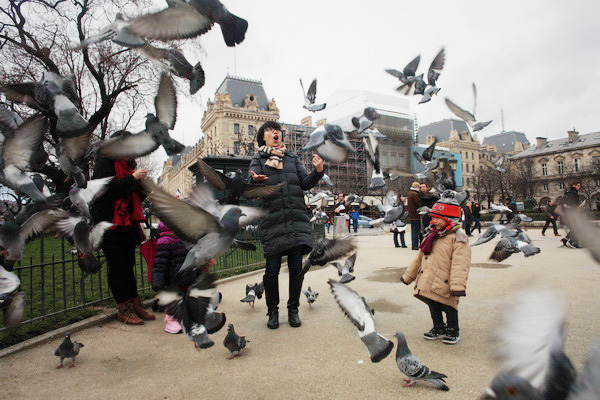 Chinese tourists play in front of Notre-Dame de Paris. Data suggest a record number of them chose to travel abroad during this year's Spring Festival. Provided to China Daily
Tourists who behave badly and threaten security at Beijing Capital International Airport will be placed on record, which could affect their future travel plans.
The Beijing Commission of Tourism Development signed a deal with the airport's security company on Wednesday, allowing the blacklist to be set up for those who violate regulations.
Punitive measures will be announced soon, according to airport personnel.
Yu Debin, deputy director of the tourism commission, said the deal will improve tourists' behavior, safety awareness and help with customs clearance procedures.
The number of outbound tourists from Beijing has been rising at the airport, which has made the introduction of the measures even more important and necessary, Yu said.
A tourist credit system was already in place on the commission's website, in which bad behavior by Beijing residents or visitors to the capital is recorded.
A tourist surnamed Zhou was the first to be placed on this list for pulling open an emergency hatch on a flight from Kunming, Yunnan province, to Beijing on Jan 10. His bad behavior record will be kept for two years.
The most frequent violations by passengers include hiding cigarette lighters during security checks and disobeying orders of security personnel, according to an official at the airport security company.
"Some hide lighters in their shoes," the official said.
Once discovered, those who cooperate and hand in their lighters can receive their boarding passes, while those who don't are turned over to police.
The China National Tourism Administration released a blacklist of five tourists on Dec 16 for causing chaos on a flight and beating a tour guide and a convenience store keeper in Japan.
It was the fourth time the administration had taken such action since May. To date, 16 people have been placed on the list, and their records will be kept for one to three years.
Travel agencies will monitor the blacklist.
Ma Bin, deputy general manager of Phoenix Travel Worldwide Co's Beijing branch, said, "We will accept tourists in accordance with the administration's requirements, and tourists blacklisted for bad behavior won't be accepted."
The daily passenger flow at the airport stands at 230,000, according to the tourism commission.