In today's trending, pink skies in Nanjing, state banquet now available for New Year's Eve, a disused factory in Fujian spouts leaves from its chimneys, and businessman gives old classmates iPhone 6s.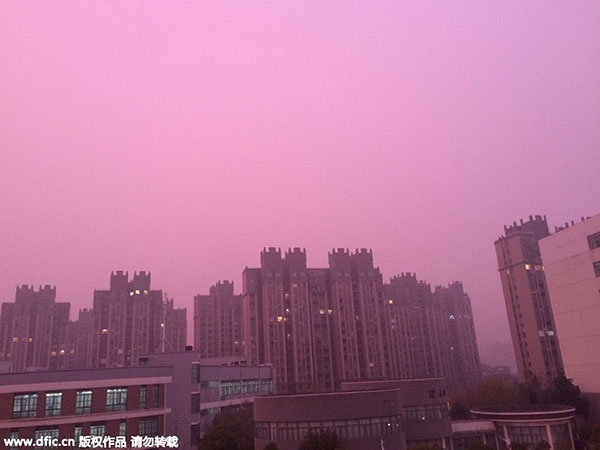 Pink sky is seen in Nanjing on a heavily smoggy day. [Photo/IC]
Smog paints sky pink in Nanjing
Smog may be harmful and annoying, but it can also give rise to extraordinary scenes.
The reading of the Air Quality Index of East China's Nanjing city reached 221 Tuesday afternoon, indicating severe pollution. At dusk, some Nanjing residents posted photos of the sky taking on a rare rosy color.

The fluorescent purple haze that engulfed Nanjing was at one point the second most talked-about topic on Weibo, China's version of Twitter.

Nanjing's Modern Express newspaper said the lavender-coloured skies had been caused by the combination of a sunset's glow and a spike in pollution rather than a specific pollutant.

Pollution levels in Nanjing on Tuesday and Wednesday were more than 10 times higher than those deemed safe by the World Health Organisation.
Ever fancing eating a state dinner? Now you can order one online for New Years' Eve, in our next story.