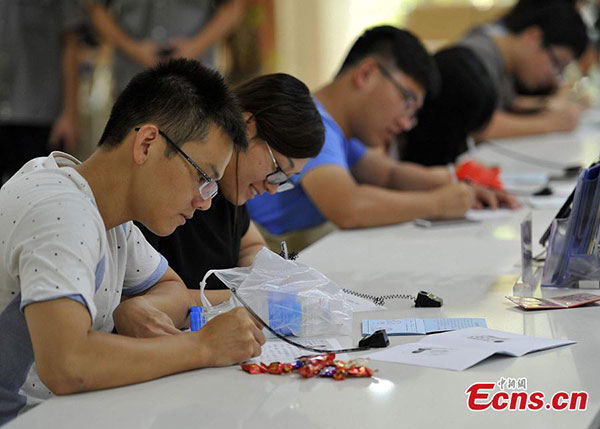 Couples queue to have their marriage registered at a civil affairs bureau in Fuzhou city, East China's Fujian province, Aug 20, 2015, the day of the Qixi Festival, often known as Chinese Valentine's Day. Qixi Festival is celebrated on the seventh day of the seventh month of the Chinese lunar calendar, and falls on Aug 20 this year.  [Photo/China News Service]
Debate is raging over a draft amendment to China's population and family planning law following the government decision to drop the one-child policy.
The amendment encourages families to have two children but not more, and would remove the right to extended holidays for those who get married or have children late.
If passed, it would mean that those who enjoy marriage and maternity leave will have seven and 30 fewer days off, respectively.
Men who wed at age 25 or above are considered to have married late, while the age for women is 23 and above. Regular maternity leave is three months.
The change would have a significant effect, as Chinese now tend to marry and have children late.
A recent survey by the All China Women's Federation found the average age for a first marriage in China is 26.
The National Health and Family Planning Commission said the one-child policy change means there will be about 30 million more people in the labor force by 2050 and a 2 percentage point decline in the ratio of the elderly population.
The new family planning law, proposed by the State Council, is expected to take effect on Jan 1.
The marriage registration office in Beijing's Chaoyang District dealt with nearly 300 couples on Wednesday, compared with the daily average of 70 to 80, Beijing Morning Post reported.
Many asked about the possible effects of the policy change, but were given no definite answers, a staff member said.
Zhou Tianhong, a member of the top legislature, said that given the new trend encouraging births, benefits such as longer marriage and maternity leave should be universal.
"Those with only one child should still enjoy the benefits because of policy continuity," he said.
Under the amendment, the government would stop rewarding those who have only one child. But those given the "one-child allowance" before the amended law took effect would continue to receive the government subsidy, or about 120 yuan ($18.50) a year.
"I think those older than 40 who have only one child should continue to enjoy the allowance", because they might not be able to have a second child, said a netizen named earfly on Sina Weibo.
Another netizen named Hawthorn said the allowance should continue to be given, as it is not a large amount, adding that "all childbearing should be encouraged".
However, many people said they do not care about the allowance.
Legislator Liu Zhengkui called for the government to introduce more favorable policies to encourage childbearing.
"It's expensive to raise a child, and incentives should be given in terms of education and healthcare," he said.
Mu Guangzong, a demographics expert at Peking University, said: "Couples who have more children should be given financial incentives. Two children is good, and three even better," he said.
Wang Xiaodong and Cao Yin contributed to this story.