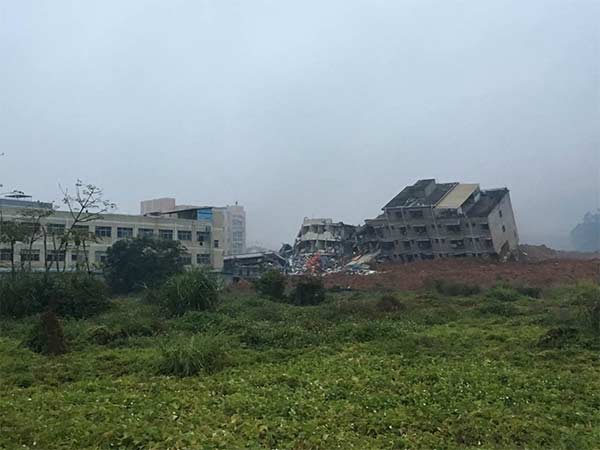 A landslide hit an industrial park in Shenzhen city in South China's Guangdong province Sunday morning, crushing several buildings. Photo by Chai Hua/chinadaily.com.cn
Four people have been rescued and 27 still missing after a landslide hit an industrial park collapsing a dozen of buildings on Sunday in Shenzhen city of South China's Guangdong province.
Police received the landslide report at 11:40 am. The natural disaster took place at the Liuxi Industrial Park in Guangming New District in northwest part of the city.
More than 700 people are searching for missing bodies. Four people were rescued from the rubble, with three suffering from minor injuries.
Twenty-seven people, 21 males and 6 females, are still missing, local government has confirmed in a press conference.
Earlier, an industrial park employee said four people from his hometown were buried, including three children.
More than 400 people have been evacuated to safety as it took about 30 minutes for the mud to slide down a nearby hill, allowing plenty time for people to escape.
According to sina.com.cn., 22 factory buildings involving 15 companies have been buried.
Seven fire engines and 194 firefighters were sent to the site when the accidents took place.
The landside happened near a gas station, which shut off its pipelines soon after the accident. No gas leaks were found.
Guangming New District, located in northwest of Shenzhen, has a population of 110,000.
In 2014, the district registered more than 22,000 enterprises and 125 high-tech companies.