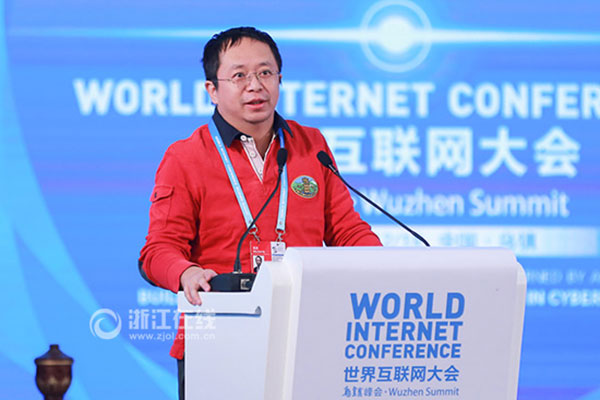 Zhou Hongyi, chairman of Qihoo 360 Technology Co Ltd, speaks at the sub forum themed "Internet Technology and Standards - Internet of Things Drives Industrial Transformation" on Friday. [Photo/zjol.com.cn]
The Internet of Things is the best business opportunity in the next five years, said Zhou Hongyi, chairman of Qihoo 360 Technology Co Ltd, at a sub forum of the Second World Internet Conference in Wuzhen, Zhejiang province on Friday.
The Internet of Things (IOT) predicts the arrival of the real big data era, said Zhou, "It is estimated that China has 1.5 to 2 billion phones on use today. In the future, there will be 30 to 50 billion devices connected to shape our life from quantitative changes to qualitative changes."
He also proposed a different idea about how to perceive IOT.
"It is wrong to believe that the smart phone is the central hub of IOT," he said, adding that IOT does not rely on smart phones to remotely control other devices from cars to household appliances.
Instead, the devices themselves, if they have an intelligent system, will be able to differentiate or substitute parts of the phone's function, Zhou said.
China has witnessed a rapid development of its Internet industry over the past two decades. The Internet has profoundly affected almost every facet of Chinese people's lives including communication, transportation, and entertainment.
The Second World Internet Conference, the most high-profile Internet related event in China, is taking place in the picturesque water town of Wuzhen, Zhejiang province, Dec 16 to 18.
The conference, with a goal of "building a cyberspace community of shared destiny", has gathered together more than 2,000 participants, including state leaders, government officials, business leaders, Internet titans, and experts from more than 120 countries and regions.