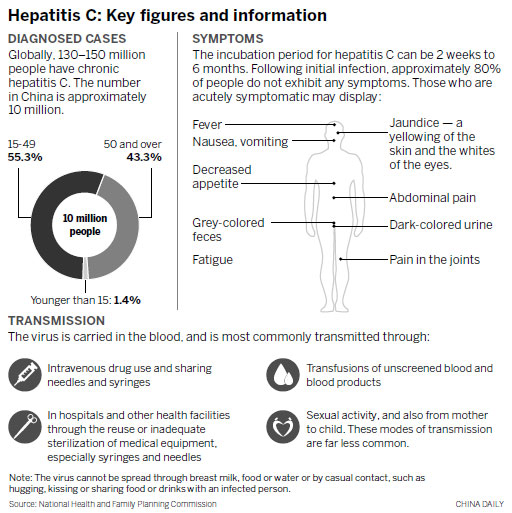 As the head of an online information support community of more than 2,000 patients, Bai has met many people in the same plight. "Many were struggling with side effects from the drugs that were far more serious than mine. It's a desperate dilemma whether to stick with the medication or not," he said.
The "hope of life" finally came in late 2013, when Sofobuvir, the first major DAA, was approved by the US Food and Drug Administration.
Sofobuvir, manufactured by the US pharmaceutical company Gilead Sciences, can cure 95 percent of patients, compared with the 70 percent rate for current medications, and has fewer side effects. In addition, the drug is administered orally, a far easier method than the injections required with current treatments.
However, a typical 12-week course of Sofobuvir, which has been dubbed a "game changer", costs $84,000, or $1,000 for each pill.
A question of choice
"For many people, life is more precious than money, and patients in China should at least be offered the choice," Bai said, adding that many national governments quickly introduced the drug following its approval by the FDA.
For example, patients who had been infected via contaminated medical procedures in Brazil, Egypt and the United Kingdom were provided with the treatment either without charge or at highly subsidized rates.
"We don't expect that much. We just want the government to allow these drugs into the country faster because patients, particularly those who cannot tolerate Interferon, are suffering and dying," Bai said.
Last year, he wrote to the CFDA, China's top drug authority, calling for an accelerated approval process. The letter was co-signed by more than 100 of his patient peers.
Two months later, he received a response from the administration: "We are highly concerned about the issue, but the procedures for drug approval have to be foll-owed."
Under the International Council for Harmonisation of Technical Requirements for Pharmaceuticals for Human Use, launched by the US and European Union in 1990, new drugs that have been approved by one member country can be made available in the others with minimal retesting.
It took just three months for Sofobuvir and other DAAs to enter the markets of ICH member countries and regions in Asia, such as Pakistan, Mongolia and Macao.
However, China has yet to join the ICH, and in desperation, many wealthier patients have turned to online agencies and paid for the drugs out of their own pockets.