The current standard treatment is unsuitable for about 50 percent of people diagnosed with the virus, but China's lengthy drug approval system means many look overseas for medication, as Shan Juan reports.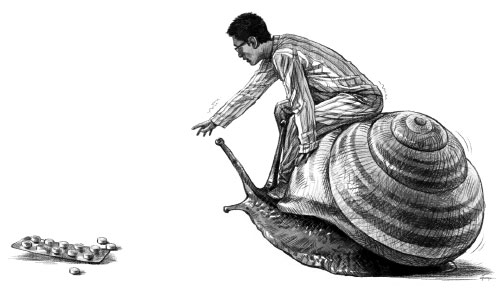 At least one in 10 of the global population with hepatitis C lives in China. However, despite being available in most parts of the world, drugs known as "direct-acting antivirals", or DAAs, which can cure at least 95 percent of cases, are not available in the Chinese mainland.
Hepatitis C affects the liver, and 80 percent of patients develop a chronic infection, according to medical experts.
Initially, many patients display minimal or even zero symptoms, but chronic infection can lead to cirrhosis or scarring of the liver, which can develop into liver failure or cancer over the course of 20 to 30 years.
In China, the current standard treatment for Hepatitis C is a combination of Ribavirin and Interferon, antiretroviral drugs that keep the level of infection low. However, only about 50 percent of patients can endure the severe side effects the drugs provoke.
A recent survey conducted by 28 Chinese hospitals concluded that Interferon is unsuitable for about 50 percent of patients, mainly because of serious adverse reactions, according to Wei Lai, a senior hepatitis specialist and vice-president of Peking University People's Hospital in Beijing.
"All stakeholders including the drug authorities, patient organizations and pharmaceutical companies should work together to bring the new drugs to Chinese patients. It's a race against death," he said.
Currently, several types of DAAs are undergoing the mandatory clinical trials required to obtain approval from the China Food and Drug Administration, a process that usually takes more than five years.
'Fake, illegal drugs'
Some patients, such as Bai Fengshan (not his real name) can't wait that long. Bai decided to look overseas to purchase DAAs, which he said are regarded as "fake, illegal drugs," by the CFDA. Illegal or not, the decision saved his life.
With the help of an online agency, Bai bought the DAAs in December last year, and finished the course of treatment in May.
Thanks to the treatment, Bai has now been clear of hepatitis C for more than 30 weeks, and has been declared cured by medical experts. Survival didn't come easy or cheap, though.
The 50-something Beijing resident was infected during a blood transfusion administered during cardiac surgery in 1989. Chinese blood centers didn't begin routine screenings for hepatitis C until the early 1990s.
When he was diagnosed with the virus in 2003, Bai was put on a combination of Ribavirin and Interferon, which caused serious side effects, such as high temperatures, fatigue, loss of weight and skin rashes.
"I had rashes all over my body, except for my face and hands. I couldn't wear shorts in summer or stay at a hotel. Flakes of dead skin and fluid from the rashes always stained the bed linen," he said. In addition, the medication made Bai so weak that he couldn't perform commonplace tasks, such as driving or bending over to tie his shoelaces.
The "unbearable" adverse reactions resulted in Bai only taking the medication intermittently. "I felt desperate when I injected myself with Interferon near my navel," he recalled.