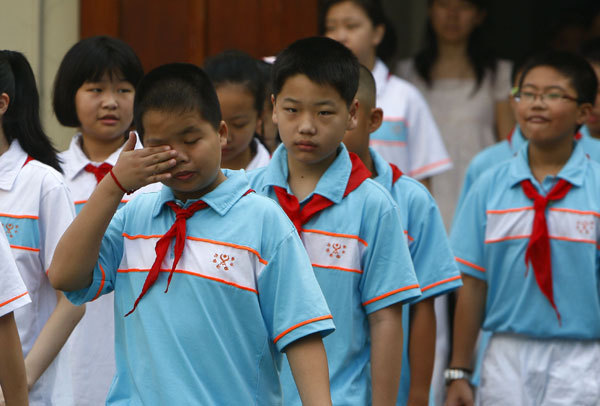 A sleepy student rubs his eyes during a ceremony held to open a new semester at Xiangming Junior High School, in Shanghai, on Sept 1, 2015. [Photo provided to China Daily]
Students in China's primary and secondary schools spend an average of three hours poring over homework assignments every day, twice the global average, according to a report by a Chinese online education institution.
The mountain of homework costs Chinese teens 10,080 hours on average before the age of 18, equaling the time of 4,032 concerts or 7,000 soccer matches, according to the report, which was conducted by Afanti based on the recorded learning behavior of its 20 million users and a deep survey of 1,000 of them.
About 45 percent of participants said their homework was too much to finish. Data show that Chinese teens spend three times as much time on homework compared with their counterparts in France, four times in Japan and six times in the Republic of Korea.
Mathematics is generally considered as the most difficult subject by the students, with 71.9 percent saying they spend the most time on math.
Homework, especially in mathematics, is also blamed for the lack of sleep for Chinese youth. The report shows that Chinese children's sleeping hours begin to decrease when they are three years old and drop below eight hours at 12 years old.
A total of 87.6 percent of high school students surveyed said they usually finish their homework after 11 pm. Students in Shanghai have the highest proportion burning the midnight oil.
When asked about their feelings, 49.3 percent of respondents said they feel frustrated and their self-esteem is being affected by time-consuming homework. More than 20 percent said they feel "suffocated and want to tear up their exercise books".
On Nov 10, a boy in Nanyang, a city in Central China's Henan province, died suddenly in his class. The boy was said to never have enough sleep as he could not finish his homework until midnight and had to get up at 6:20 am in the morning.
The incident stirred heated debate on how much homework is too much for students although homework may not necessarily be the direct cause of the boy's sudden death.
The never-ending heaps of assignments also take a toll on parents. According to the report, more than 80 percent of parents said the homework makes them exhausted. About 45 percent of them admitted to asking their children to give up on their homework and 33 percent said they once talked to the teachers about this issue.