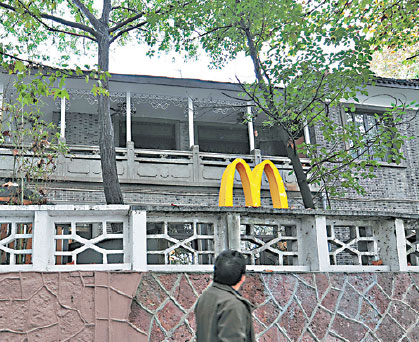 A passer-by looks at the logo of a McCafe that was opened in the old home of former Taiwan leader Chiang Ching-kuo in Hangzhou, Zhejiang province, on Saturday. Xu Hui / for China Daily
A McDonald's cafe opened in the old home of former Taiwan leader Chiang Ching-kuo in Hangzhou, Zhejiang province, last week.
The house, built in 1931, is located in Hangzhou's West Lake Scenic Area. Chiang, son of former Kuomintang leader Chiang Kai-shek, and his family lived there from October to November 1948. It consists of two buildings, each with two stories.
The annex of the house was turned into a Starbucks coffeehouse two months ago.
In January, the scenic area's environmental protection bureau released its approval of McDonald's application. The venue, a McCafe, sells mainly coffee and desserts.
The newly opened cafe is decorated with posters and pictures telling the story of its former owners.
Demos Chiang, grandson of the former leader, wrote on his Sina Weibo blog that he questioned whether it is right to open a McDonald's in the house.
"I had undertaken the decoration of the old residence in Hangzhou," he wrote. "However, when I learned that they are opening a McDonald's restaurant and the client only wanted me to provide pictures of my late grandfather, I withdrew from the case."
Rong Yuzhong, secretary-general of Hangzhou Ancient Capital Culture Research Association, said that it was inappropriate to commercialize famous people's old homes.
"The old houses around the West Lake are inseparable parts of the lake as a world cultural heritage. Protection should always come first," he said.
"To maximize the houses' social and cultural influences, government should preserve them properly and open them to the public to visit as museums," he said.
Liu Haisheng, an official with the Zhejiang Provincial Government Offices Administration, which holds the property rights to the house, said that apart from the building itself, there were no traces of the Chiang family left to be protected.
"They lived in the house for only one month and almost nothing about them was left because many people moved in and out after them, so it is meaningless to turn it into an exhibition house," he said.
Liu said that they hoped the commercial usage would provide enough funds to further preserve the houses.
The restaurant and the coffeehouse have already attracted many tourists. Zhou Xia, a tourist from Hebei province, said: "We can take a rest, enjoy the art of the old architecture and get to know Chiang Ching-kuo through the posters."
yanyiqi@chinadaily.com.cn