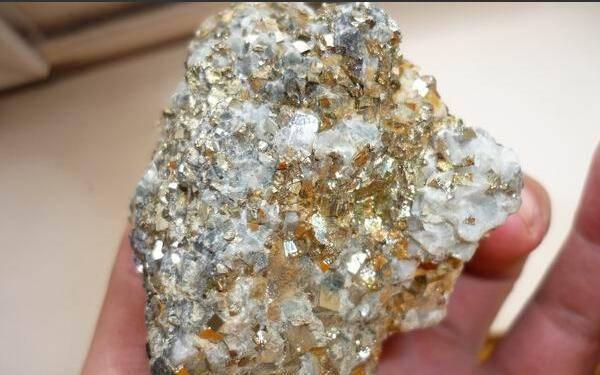 Gold ore. [File Photo/jiaodong.net]
China has discovered a colossal gold mine worth hundreds of billions of yuan in the water of Sanshan Island, East Shandong province's Laizhou Island, which lies east of the Bohai Sea.
It's the first gold mine discovered under the ocean in China. The mine is estimated to bear 470.47 tons of the mineral. Mines containing over 20 tons of gold are considered "big."
It took Shandong Third Institute of Geological and Mineral Exploration three years to find the mine. Because the metal is buried 2,000 meters under sea, mining will be a challenging task.
Although China is the world's leading producer of gold, its technology is yet to be improved. Most gold mining operations in China take place within 1,000 meters under the earth.
With waves in the sea, it could be even harder to locate the metal accurately and go that far for the gold rush. Besides, it's reported that the mining requires more than 1,000 workers simultaneously.
"It's no easier than the docking of a space ship," said Zhang Junjin, program manager of the exploration.
Mining will be conducted by Laizhou Rehi Mining Co., Ltd.
"Drilling in the ocean will mark the fact that China's geological exploration has extended from land to sea, and that it is a strong power in geological terms," said Xu Zhiqin, academician of the Chinese Academy of Science.