Visitors to the Chengdu Research Base of Giant Panda Breeding in Sichuan province had a pleasant surprise when they came across six pairs of panda twins.
The base was holding a global event, Discovering Twin Cubs, in conjunction with the United Nations Development Programme to promote awareness of panda preservation.
The Chengdu panda base, set up on Futou Hill in the northern suburbs of Chengdu in 1987 with six hungry and sick pandas rescued from the wild, is the world's only panda base located in a city.
From June 22 to Sept 16, it witnessed a record birth of 12 panda twins over a short period, bringing the number of captive pandas to 152.
Patrick Haverman, deputy country director for the UN programme, said one pair of twins born Sept 16 had become image ambassadors for the UNDP.
The event also drew many human twins including Jiang Wenwen and Jiang Tingting, the world synchronized swimming champions.
The Jiang sisters announced the names collected worldwide for the first panda twins born in the base in 2015.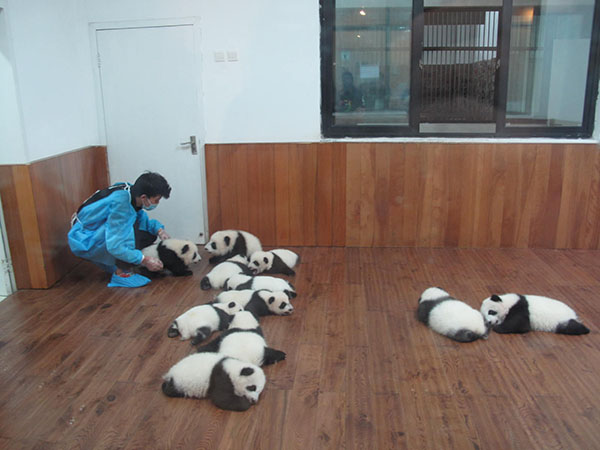 A keeper takes care of the twin panda cubs. [Huang Zhiling/www.chinadaily.com.cn]