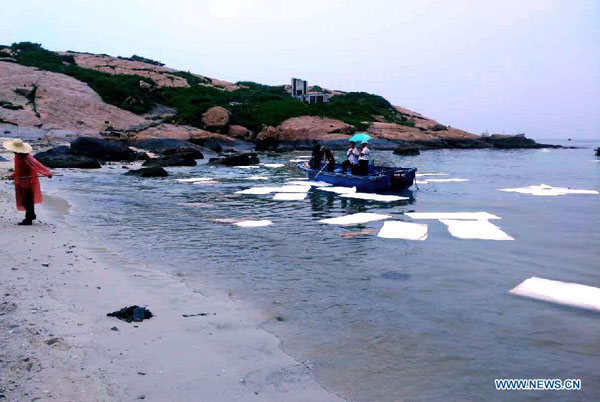 Decontamination team try to clean up the sea which is polluted by heavy oil on the Miaowan Island in Zhuhai, South China's Guangdong province, Aug 26, 2015. About 200 square meters of sea water around the Miaowan Island, which has been polluted by heavy oil since Aug 23, is almost cleaned up by a professional decontamination team as of Aug 27. Local maritime bureau is making an effort to trace the source of the heavy oil. [Photo/Xinhua]
A new report has been put under review by Chinese lawmakers connected to water pollution.
The report, the Water Pollution Prevention and Control Law, has been reviewed by the National People's Congress.
Vice-Premier Wang Yang is among those who have gone over the potential amendments to the legislation.
He says protecting China's water is going to be part of the forthcoming 5-year plan, and will be part of new industrial, investment, financial and tax policies.
"We need to transform our development strategies to better defend against water pollution. We are going to set up a system through which the water, as well as the rivers and lakes which hold the water, will be inspected and evaluated so that we can have advanced warnings about issues."
Wang Yang also says the State Council also plans to add amendments to the legislation to ensure officials are held accountable.
"We need to prioritize a system of objective assessment tools for local officials. Local governments will have to bare the legal liability for the quality of water in their area."
Environmental Protection Minister Chen Jining says their new plan is a multi-step approach.
"The 'ten-step' water plan was officially launched this April. It focuses on several areas, including an adjustment to the industrial structure, optimizing the available space and scientific and technological advancements. There are a total of 238 specific measures in the plan. Among them, 105 are precautionary measures. We hope the precautions will be the focus when the plans are implemented."
The new amendments to the legislation are also expected to cover sewage issues, particularly in rural areas.
Housing and Urban-Rural Development Minister Chen Zhenggao says this is also going to be addressed in the forthcoming 5-year plan.
"We plan to continue our efforts to put the Water Pollution Prevention and Control Law into practice. We have three things to do. The first is to set clear objectives and work hard to solve the problem within the 13th five-year-plan period. Second is to help local governments raise money. Third, we are going to ensure local governments keep to a schedule."
The analysis shows that drinking water resources in nearly 85-percent of cities across China currently meet nationwide standards.