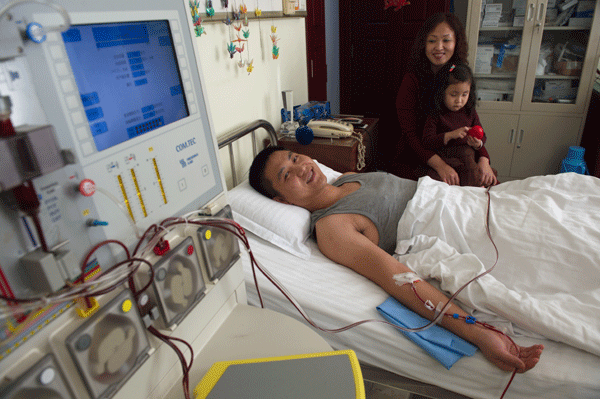 This file photo shows Ye Huifeng, accompanied by his wife and daughter in Beijing on Monday, donates his bone marrow, hoping to save the life of a 10-year-old boy in South Korea who has leukemia. [Photo/China Daily] 
China's top health authority issued Friday the nation's first-ever regulation (trial) over the stem cell therapy to clean up the business many denounced as "going wild".
It also cautioned overseas patients about coming to China for such therapies which allegedly can cure a wide range of diseases such as spinal-cord injuries, epilepsy, cerebral palsy, cancer, and autism.
All treatments involving stem cells are experimental except for the hematopoietic stem cell therapy treating a variety of blood diseases including leukemia, said the regulation by the National Health and Family Planning Commission.
"Only eligible hospitals can perform the practice as a clinical trial for research purpose and it must not be charged or advertised. Anyone caught breaking the rules will be punished according to the new regulation," said Zhang Linming, a senior official of the science and technology department of the commission. But he didn't specify the punishment.
The regulation (trial) stipulates only top level State-owned hospitals, widely known as 3A ones, can be candidates and become eligible after passing special evaluations by health authorities.
A list of the authorized ones will be made public soon and channels for public reporting of violations set up, he added.
Zhang said they were aware of the wide availability of stem cell therapies in the nation.
"We would count on the new regulation (trial) as legal base to clean up the sector," he said.
But he also pointed out that regulation (trial) would also support lawfully conducted clinical trials of stem cell treatments.
shanjuan@chinadaily.com.cn