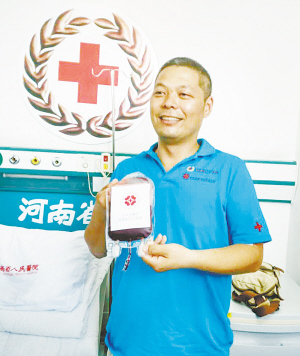 Geng Wei from Xinye county, Henan, donates stem cells, on Aug 3. [Photo/hnr.cn]
Henan province has now gained the distinction of having the most stem-cell donors in the country thanks to Geng Wei, from Xinye county, who made a donation at the provincial People's Hospital, on Aug 3, to help a leukemia patient in Tianjin and making him the province's 500th stem-cell donor.
Geng, 39, is a driver for the Xinye civic affairs bureau who has continued to offer his help to others for many years and started his stem cell donation for the Red Cross Society of China's Marrow Donor Program in 2009.
This time, his stem cells were found to match those of the person in need in Tianjin, on May 27, and, after a medical exam, he made the donation and received a certificate, on Aug 3.
Geng has also been donating blood religiously every year since 1998 and volunteered to drive goods and materials to disaster areas after the disastrous Wenchuan earthquake in 2008, then followed up by establishing a volunteers association in his county to get more local people to lend a helping hand to those in need, in 2009. He continued his help, in 2013, by soliciting more than 100,000 yuan ($16,100) for a person suffering from uremia.
For all Samaritan efforts, Geng has received many honorary titles, such as "Five-star Volunteer" and "Outstanding Henan Volunteer".
On a related note, the city of Nanyang, Henan has seen 4,088 people register for the Red Cross program and offer stem cell samples, since 2006, out of which 25 have been successfully transplanted to prolong the life of patients.